TEXT BY JAYA THUKRAL & AANCHAL MALHOTRA
PHOTOGRAPHS BY JAYA THUKRAL 
New Delhi, India
At first, when I found it in a drawer in the house, I thought it was an old receipt. But as I unfolded it, I was stunned by the beauty of the paper. This was no old receipt, and when I held it out to my mother, she recognized it straightaway!  This is called 'Sehra' or a 'Subhaag Sehra' to be precise.
The first thing my mother did was to reminisce when was from and tell me the story behind it. What I had found was my Uncle's Sehra, from his wedding in 1985. The Sehra is a piece of paper upon which a poem was typed- in this case, in Hindi, with the help of a typewriter. It was usually printed in mass on cheap paper like newsprint or paper-napkin like sheets, and distributed like wedding cards among groom's side of guests. The paper was usually so thin that the ink would often bleed out onto the other side.
The singing or reading of the Sehra began originally as a tradition at Muslim nikaah's, especially in Uttar Pradesh or the Hyderabad, but was gradually practised at most weddings in South Asia, regardless of religion, wherein the sisters wrote a poem for their brother – the groom-  which was recited during the sehra-bandhi ceremony or the nikaah. It was recited by either a male member of the family or a professional singer. In this case- as can be read at the bottom left corner of the page- the Sehra was sung by a man named Surjit Singh Hira, the gayak (singer). The structure of the Sehra began as a Nazm, a genre of Urdu poetry which normally rhymed. But apart from this, there are no particular rules about the content as it is quite specific to the family. Like every other ceremony, the reading of this poem was an indispensable part of the wedding and guests quite enjoyed listening to the narration.
We have several copies of this Sehra at home, as do my aunts. Some of them are torn and some of them are in good condition. It is a square sized sheet of 11 x 11 inches, and the beautifully off-white material somewhat resembles butter paper. Over the years, I suppose it has become a paler shade of the original, but the paleness has made it even more graceful. The constant folding of the thin paper has left a deep, permanent crease on its surface. There's a pink floral border which is absolutely in sync with the symbols used during Indian weddings. The writing, printed using a typewriter, adds to the charm, which I suppose would not have been the same if it were printed using a computer. One can feel every letter, trace the emboss and purpose of every word.
It begins at the top of the page with a short four-line verse which requests God, the Satguru, to bless the couple. Next, the name of groom and the date of wedding is typed. In this case, it was my uncle's wedding, which took place in Mukherjee Nagar, New Delhi on 19-11-1985 as printed on the paper. Following this, there's a poem of approximately fifty lines which intelligently and humorously incorporates the names of all the family members, even the extended ones. My mother tells me that this used to be the fun part during the ceremonies; everyone would wait eagerly for their names to be read out. The Sehra also talked about the sadness of the bride who was getting separated from her family. It preached to the groom and his family to take care of the bride and pamper her with all the luxuries like 'ghee'.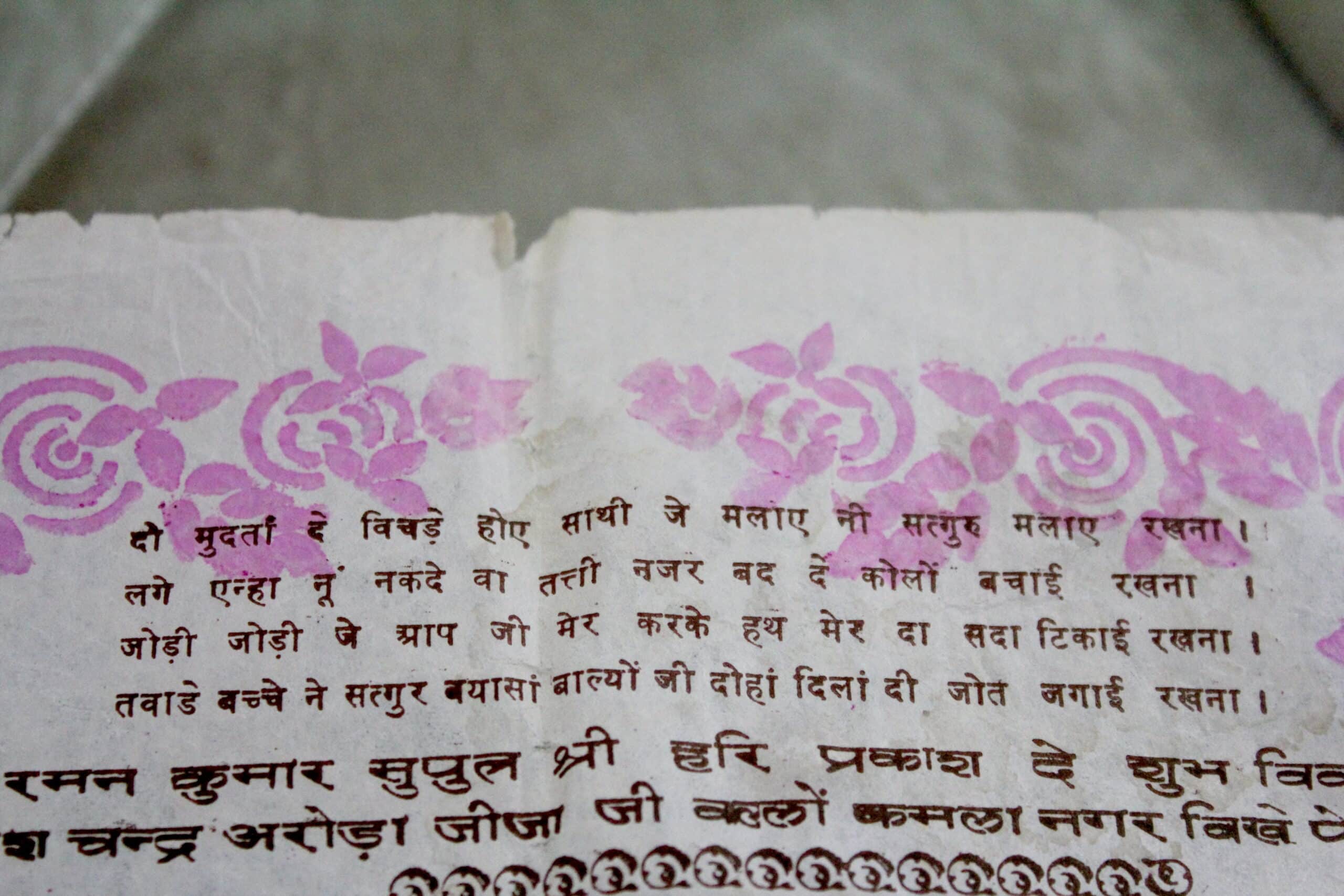 A few lines from the poem are as follows:
"Sunn Veera sehre baaleya, tera sehra kahaan ajeeb,
Sisters tease their sehra clad brother: Your 'sehra' isn't mysterious (Sehra is also the head-dress worn by the groom during Pakistani, Indian and Bangladeshi weddings)
Ajj kismet paasa palateya, tere jaage ajj naseeb.
Today, your fate has turned for the good.
Tenu vich kuaari umar de kayi mil gaye aise meet,
During your life as a bachelor, you've been blessed with such companions
Tere naal jinha de pae gayi, vado vadi hi preet."
Because of whom you'll receive more and more affection."
And of course, I have a favourite part as well:
"Dhee de ke putt nu labheya assi samajh gaye haan jaan,
By sharing our daughter, we've found a son (son-in- law) and have embraced him like our own,
Dhee wale hi dhee waleya da kar sakde ne maan."
Only those who have daughters can empathise with a daughter's parents."

So even though I was not there when this Sehra was read out, possessing it now, serendipitously chancing upon it, has made me feel closer to a tradition my family once practiced. And though some families still hold true to tradition and still are particular about reading out the Sehra, we are no longer of those. Among the many conversations we had about this poem, I once asked my mother why this tradition had faded from our family.
"Things change gradually," she said, "Many ceremonies have been terminated and many have been added. That's how it goes."  The answer, bittersweet in its rendering, made me hope that perhaps some traditions were cyclical and would be eventually revived with time.