TEXT BY HARSHA SINGH AND PHOTOGRAPHS BY AANCHAL MALHOTRA
Delhi and Bihar
My mother opens the trunk as she does every year for Chhath puja. The box shelters the spirit of Chhath, in its various artefacts, plus a few new sarees that she bought for Kharna Puja, observed on the second day of Chhath. One of these items is a Thekua mould, 72 years old, that she brought with her from Patna to Delhi when she got married.

In the year of Madhubala's Tarana, my great-grandfather, hailing from a family of Patwaris who once were established Zamindars, bought an ornate wooden item for my great-grandmother from Madhubani. It was a Thekua mould made out of mango wood in the colour tan, lightweight and palm-size – approximately 7 inches in length and 4.5 in breadth – with a design on the front and back, a new and fashionable characteristic for the time. The family lived in an ancestral haveli in a remote village in Bihar with an abundance of relatives, so naturally, him purchasing another mould was not so rare. It already had a few siblings in the family, some bigger, some even more ornate, some made out of expensive wood, as my grandfather recollected. But this mould was what my great-grandmother cherished the most, as it was the first gift that her husband had purchased for her after their marriage.
As my mother recalls, in her sincerest naivetiy, her grandmother used this mould to imprint patterns onto her infamous Thekuas, a fried delicacy equivalent to cookies. It is prepared with wheat flour, sugar or jaggery as my family uses, spices and finally fried in ghee or oil . These were made whenever there was a wedding, or someone was moving away, or for picnics (my mother's family is very fond of picnics), or the long-awaited annual Chhath puja and other family function. Depending on the occasion, she would alter the recipe to her convenience – for instance, at religious or important functions like weddings or the Gaona, where the newly-wedded bride goes back to her parental home, she used pure ghee in the entire recipe. For more informal occasions, she would replace it with oil.
My mother recounts sitting with her on the 'kacchi zameen', as she likes to call it, as a toddler of barely five, and stamping thekuas into the mould right before her grandmother fried them crisp. With her hair coconut-oiled and a kajal dot on her forehead – yet another tradition passed down the generations – my mother would help my great-grandmother in stamping the dough. When my grandmother got married, she was lovingly given this mould by her mother-in-law amongst other gifts during the wedding.

But unlike my great-grandmother, my grandmother did not have the privilege of a happy marriage; all her Chhaths were witness to abuse by her husband. My grandfather was a merchant navy engineer, who was at sea often for eight months at a stretch, and so to compensate, he'd return home with gifts for the entire family as well as his mistress. One year, he returned just in time for my mother and her brother's mundan or tonsuring ceremony, which as per my family's customs, can happen multiple times in childhood. At the time, my mother was 10 going on 11, and being the eldest, had the responsibility of looking after her brother. As a part of the festivities, the thekuas were under laborious preparation and this particular mould was one of only two that had survived the years. Numerous unfortunate events led to my grandmother immolating herself in rasoi the night before the ceremony. Once everyone realized what had happened, they were horrified and tried to put out the fire, but her burns were severe. The sweet thekuas made with motherly affection had also burnt. She succumbed to her injuries – both physical and emotions – the next day, the same day of the ceremony. And so it came to be that the mould was shut in a sandook, never to be seen for the next eight years, while my mother, being old enough to comprehend what had happened yet being too young to have witnessed such pain, kept that gut-wrenching incident in her memories forever. From thereon, she was raised to womanhood by an unconditionally kind aunt.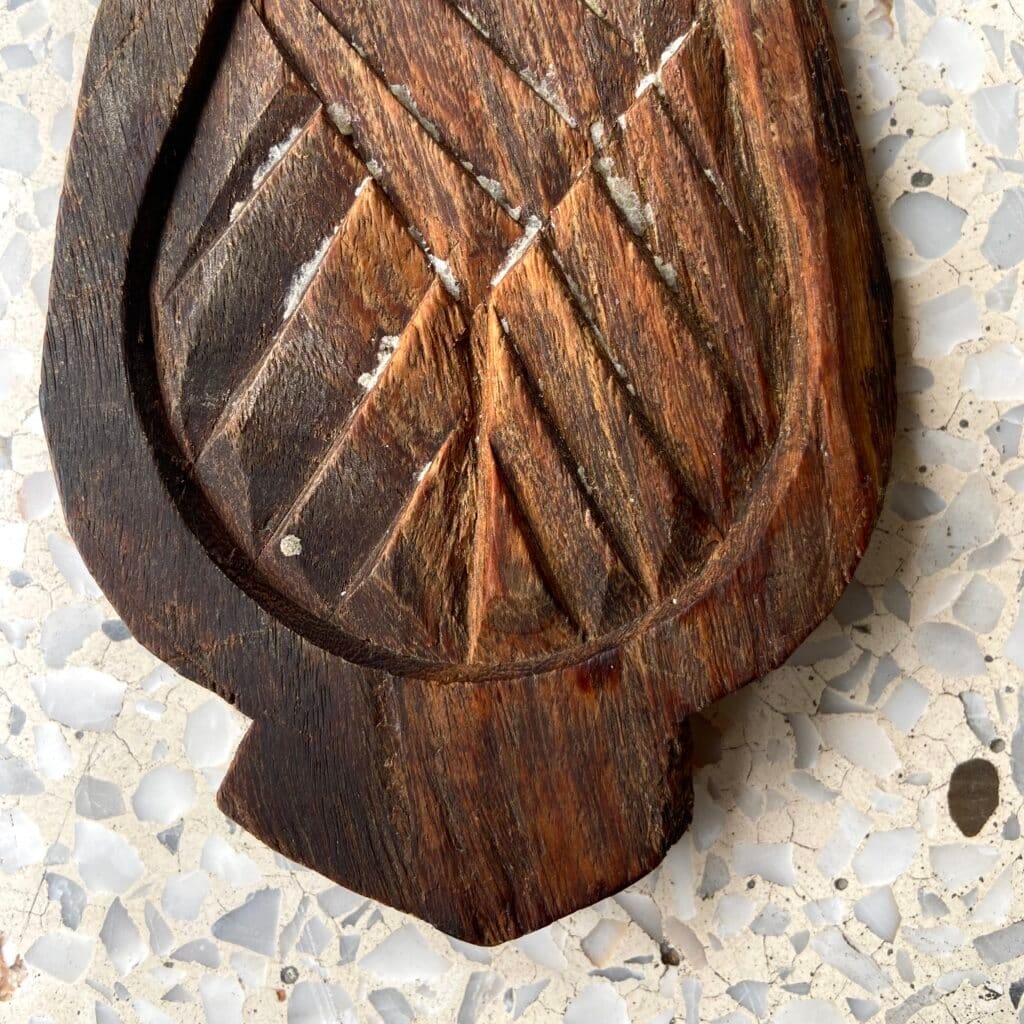 My mother recalls that it was only during the time of her marriage to my father, that the mould was taken out of its drawer for the Tilak ceremony, which in a Bihari wedding is similar to Roka. She saw it and immediately started bawling, for it reopened a wound too close to the heart. Married in 1991 at the age of 18, she took the mould with her to her new home in a relatively urban area where she stayed for  a week before her Gaona. After a seven year-long stay at her father's, she came back to her marital home while my father was in Delhi to pursue his Masters. Amongst all the festivities of her return, her brother-in-law started pestering her to the point of abuse. Once again, she was taken away to her childhood home, but when my father received the news, he immediately travelled from Delhi and took his bride with him, without considering their finances or even where they would live. As she now left Bihar for a new life in Delhi, the chose to take the thekua mould, a huge brass plate called a kathauti, and the saree which her mother had left for her – her only heirlooms from either of the families.

The couple arrived in Delhi in the year 2000, and saw extreme struggles, losses, familial disconnection, all adding to the trauma my mother had endured, but also strengthening her relationship with my father. Very much in love, they tackled all that came their way. Once in a while, she would courageously open her treasure box and reminisce her childhood, happy and sad.  Every year, she performed the Chhath puja with utmost devotion and hope, just to find closure with her departed mother.
In its life span of 72 years, the mould went on from being used all year round to just one day a year. But from the year that I was born, 2004, the number of thekuas my mother made increased tremendously. The ridges of the design may have corroded, scratches emerging on its surface, and yet it remained in good condition due to a regular oiling of the mould. Though my mother claims that the taste remains identical, few tweaks have been made to the recipe of the thekuas, three generations on.

The beautiful mould has witnessed a range of emotions in its still-evolving lifetime, from love to grief and then to love again. It has softened with time just to blunt the edges and lighten the weight of a generational trauma. It has travelled with my great-grandmother, my grandmother and my mother. But my mother – in the subliminal tradition of passing the thekua mould on – also brought the feminine fertility, beauty and strength of a conjugal relationship with my father, and the family connection which words fail to quantify. Now as she makes her thekuas, I cannot help but wonder, is it just a thekua or is it motherly love and the sacrifices of the generations that came before her, which are pressed into the oiled ridges of this mould? Despite its quotidian use and humble beginnings, the object represents womanly strength as it has witnessed a drastic change in generations, both emotionally and technologically.
I learn more about the travels of this mould, the hands it has passed through, the incidents it has witnessed, each time my mother takes it out for Chhath Puja. These collected memory of 18 years, which my mother passed on in fragments, were just refreshed a few months ago during the puja. The modulation in her voice, the twinkle in her eye, the sorrow in her words and the love in her hands are all imprinted on my memory. The story becomes extraordinary because of the emotions she has deposited into its crevices. Its journey reflects what cannot be forgotten, and its outcome – the delicious thekuas themselves – reminds me of all the unsaid stories. In the whites of my mother's hair and in the scratches of the mould, lies the story of her family, both at its glory and at its worst. Nothing less an ancestral haveli filled with memories, my great grandmother's thekua mould continues to laugh with my mother, cry with my mother, scream with my mother, gossip with my mother and be her closest co-traveller. And it will continue to be so until she decides to pass the past on.