TEXT AND PHOTOGRAPHS BY TANYA PALTA
New Delhi, India
It never occurred to me, until recently, that part of growing up also entails experiencing loss in varying degrees, from the unfathomable to the expected. Loss as an emotion is complex, as it makes you find solace in places you didn't even know existed. Loss makes you look for stories in nooks and crannies that you often overlooked in the past. Loss makes the relationship with your memories change, as suddenly they are more vivid than just being vague. Loss makes you look at old photographs with a newfound focus and fervour, as you desperately attempt to relive those same scenes in the present.Loss makes you take out long-forgotten objects and caress them with a delicate intimacy, that you didn't even know you were capable of.

All these actions are just an attempt to ensure that the loved one you lost and now grieve doesn't fade away. Their voice. Their face. The way they called your name. Overtime even their most infuriating flaw fades away, but the lingering of loss remain. My paternal grandparents were always Ma and Bapu to us, never Dada or Dadi. I lost my grandmother, Santosh Palta, on 15 April 2018 but not a day goes by when I don't think about her.
As Punjabi tradition dictates, several family heirlooms were handed down to me when I got married in 2013. All of them are tucked away safely and securely, apart from one piece, this Holdali Pendant, which I take out occasionally with an almost cherished reverence.

I think I was in my early twenties, when I first noticed this Mughal Holdali, Jade Takhti pendant on my mother, Anita Palta. She has a penchant for semi-precious stones and is known to make them into statement pieces. The memory stuck with me as the piece looked striking on her, and I loved how she had paired something so traditional with a western outfit. Unlike the other jewelry she wore, this was distinctive, as it didn't look modern, yet didn't look antiquated or ostentatious. At that time, I didn't know that there was a greater significance to this beautiful piece of jewellery. According to the family lore, the pendant belonged to my grandmother's erudite ancestor, Dewan Rattan Chand Dhariwali, who was one of the courtiers of Maharaja Ranjit Singh in the Lahore Durbar.
In Punjab, this particular piece of jewelry was passed on to new brides and my family continued this tradition. My grandmother, was the first-born daughter and was quite frail in her early years, hence her mother chose to give the pendant to her post her wedding. It was handed down to my mother, Anita Palta, from my paternal grandmother, Santosh Soni Palta, who received it from her mother, Phoolwanti Devi Soni, who was the wife of Permanand Soni, Chief in erstwhile Punjab. Phoolwanti Devi Soni was known as Shanti Devi before marriage and her name was changed post the wedding for astrological reasons. Dewan Permanand Soni's father was Dewan Puranchand Soni , his father was Dewan Lala Bhagwandas and their grandfather was Dewan Rattan Chand Dhariwala. The title of Dewan was passed on and my family wore it proudly.
Dewan Rattan Chand Dhariwala was a prominent courtier in the Lahore Durbar of Maharajah Ranjit Singh. In the court, he was officially called Lala Rattan Chand Dhariwala and after the death of the Maharajah in 1839, he continued his position in the Lahore Durbar. He was appointed the postmaster-general of Punjab in 1846. During the British rule, he became honorary magistrate of Lahore in 1862. He was then bequeathed title of Dewan in 1865, and was one of the first Punjabi bureaucrats to join the British administration of the East India Company.
The family was based in Lahore, lived in Sareen Mohalla and owned a lot of property in Bansaanwala Bazaar and apparently there was a Rattan Chand Road as well. My grandmother's family migrated from Lahore post-partition to Amritsar, and then was allotted a house in Ludhiana. From Ludhiana they moved to Hoshiarpur in Punjab and then finally to Bungalow Road in North Delhi (campus area). The pendant along with other heirlooms travelled with them and due to their bureaucratic connections, they were granted a safe passage and not touched by the violence of Partition. The actual pendant is said to be from the 1800s and has been in the family since the 19th century.
A quick Google search reveals how much the Mughals loved Jade artefacts. The Holdali pendant, in particular, was supposed to assuage feelings of stress and anxiety by wearing it close to the heart. Considered an amulet and cut in curves around the edge, it was also worn by those who had a weak heart, both metaphorically and literally. Unfortunately, I never got to ask my grandmother about the pendant or any other family heirloom. To me, it was just a stunning piece of jewellery, which I would occasionally borrow from my mother. It never occurred to me that one day my grandmother would be gone and I would be holding on to her through objects, be it her extensive perfume collection, a favourite cashmere sweater or a family heirloom.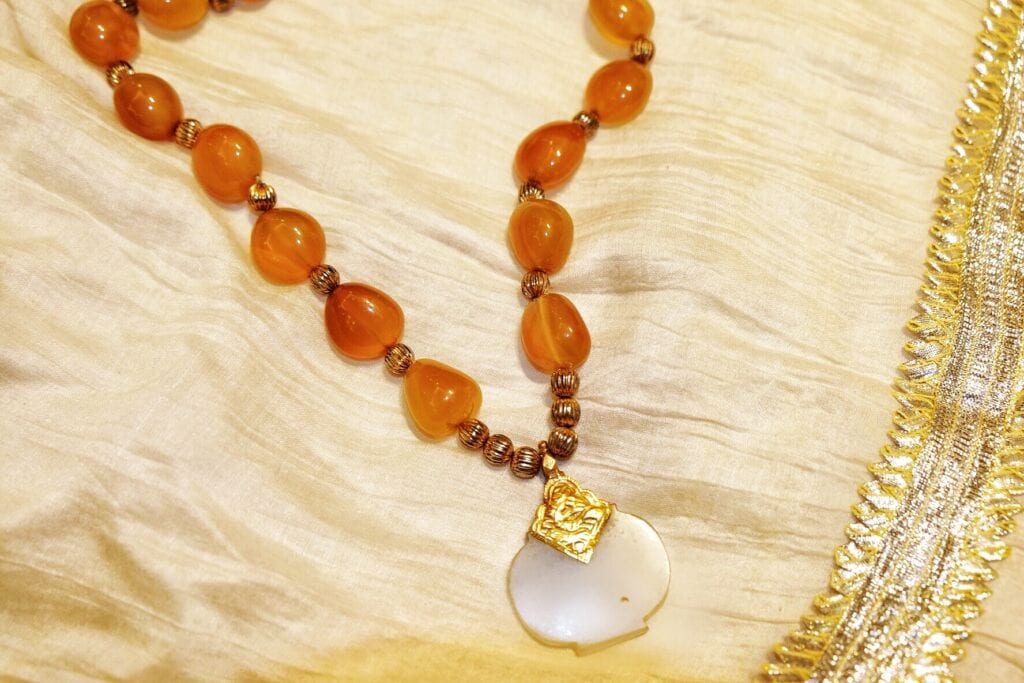 Last year on my birthday, I wore the pendant as a homage to my grandmother, thinking it was apt, as she will always be in my heart. The yellow stones you see around the pendant are agate stones added by my mother almost a decade ago. This makes the pendant even more valuable and meaningful to me, as now it also has a piece of my mother (so to speak).
The surface of the pendant is smooth, as is the case with Jade. This smoothness gives it an ethereal quality, and touching it, you do feel a sense of calm. You will see some textures and markings in the light which have appeared over the years, as it was not stored properly. The gold etching on the pendant is delicate, and transports you to a different era. Then there are the striking yellow agate stones, which my mother added in the late nineties. The stones are slightly translucent and feel heavy in the hand, and add a layer of substance to the piece, which now is with me at my residence in New Delhi.
The Holdali is an ethereal piece of jewellery, that embodies a delicate link between the past, the present and the future for me. It is a manifestation of the traditional and the contemporary, a legacy hopefully, I will pass on to my child one day.