WORDS BY PRIYA RENGA
TEXT BY TISHARA RAJAGOPAL
PHOTOGRAPHS BY VIGNESH SIVAKUMAR
Chennai, Tamil Nadu, India
The dining table that sits in my family home was crafted in 1942. 4' by 9' and 2'6" tall, it was created specifically for my family's home, in Chennai, and reflects the crest of the Art Deco movement that was sweeping across India at the time. The table is made out of teak wood and finished with a clear lacquer polish. It is solid and content in the dining room that is adorned with Art Deco motifs –– spiral window grills, lotus carvings in the wooden panels that run across the ceiling. The table itself was built from a single slab of wood that sits atop two sturdy, thick, wide legs. The grooves on the legs that end in curves are another understated Art Deco detail. The tabletop has a deep wood staining with a lighter stained trim that highlights its border. Six teak wood chairs with deep mauve leather seats tuck into the tabletop. 
The table's original owner, and the man who commissioned it, was my maternal great grandfather –– M. S. Ramaswamy Chettiar. He was born in the early 1910s in Karaikudi, a town in Tamil Nadu's Chettinad area. Chettinad is a gem in the crown of Tamil culture. It was, historically, a community of merchants and traders and has since seen lineages of businessmen and entrepreneurs. The Chettinad area has produced impressive palatial houses and has popularised a distinct South Indian architectural style that brings about an atmosphere of comfort in tradition. Enriched by the trade routes to the rest of South Asia, Chettinad also boats of some of the finest arts and craftsmanship –– be it intricately carved wooden doors or colourful, handmade Athangudifloor tiles. 
It's no surprise that Ramaswamy Iyyah, who came from a family of businessmen, had great aspirations. In the late 1930s he left Karaikudi and made the move to what at the time was called Madras to materialise his dreams and visions. Ramaswamy Iyyah was eager to try his hand at everything; and it seemed as though everything his hand touched was golden. He dabbled in film making and producing movies, silver minings, real estate, and soon after also claimed the title of hotelier and owner of Hotel Oceanic. That was perhaps among my great grandfather's most iconic achievements, that lingers in the memory of those who grew up calling home Madras before it became Chennai. 
His home, in which the dining table still sits, was built in 1942 and Hotel Oceanic followed soon after in 1954. They were situated on an empty stretch of land where the ocean shore lapped not too far from the road. The visionary that Ramaswamy Iyyah was, he built Madras' second 5-star hotel to serve as service apartments for the British Ashok Leyland staff, as the company was newly christened in Madras in 1955. The hotel flourished with its Art Deco influence, inspired by the neighbouring sea, and coveted air conditioned rooms. Queen Elizabeth's contingent stayed at the Oceanic during her visit to Madras in 1961.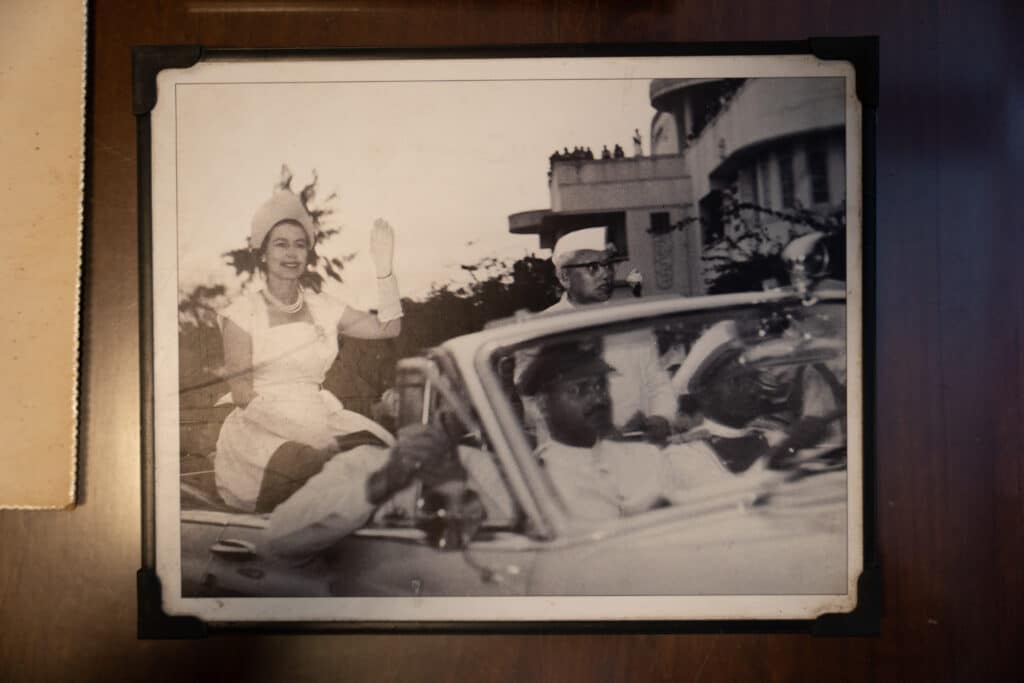 Dressed with a cheerful grin and a bowtie, Ramaswamy Iyyah would throw the most lavish parties 1950s Madras ever saw. And Hotel Oceanic and his home were the perfect backdrop. Every Sunday, for twenty years, the teakwood table would be set with an enviable spread of food from the hotel, catering to an even more enviable guest list with the likes of actors Shivaji Ganeshan and Dilip Kumar, and former Chief Minister Kamarajar. Star-studded guests would crowd around the table, adorned with china and crockery from Europe that would sit alongside stainless vessels from Karaikudi. The table was also the setting for his legendary card parties with a steady stream of drinks and cigars. 
The next generation was more orthodox and did away with the glamorous parties. Instead, my grandparents, M. S. RM. Meyyappan and Alagammai prioritised a familial life. And so the table too shifted in its use. In the 1960s, as Meyyappan Iyyah and Alagammai Aayah started their family in this home, the table became the setting for their childrens' tuition lessons and birthday cake cuttings. Ever since, the table would always be set with a tray of prasadham –– offerings from the temple. It is at this table that Meyyappan Iyyah curated the many care packages he sent to his grandchildren when they were away at hostel. The few times a year the table is guaranteed to see a hearty gathering, guests spilling into the adjoining rooms, is during festivals. Over Diwali the extended family, close to thirty people, gather for a buffet-style meal at the dining table with a spread that covers every square inch of its surface. And Pongal with my grandmother, Alagammai Aayah –– the sole resident of the home, is an array of Chettiar delicacies; vellai paniyaram (fried rice batter), meen kozhambu (fish curry), idiyappam (string hoppers), and paneer soda (rosewater soda) in glass bottles. 
Today, a typical setting atop the dining table is a tray of little pots that contain sacred vibuthi and kumkum, a neat row of Tamil magazines and periodicals that have formed a stack over a months time, a collection of carefully arranged stationery, and the odd coconut or two. When I trace my fingers along the smooth surface, perfected by the Karaikudi craftsmen all those years ago such that there are no chips at the rounded edges, and barely indiscernible markers of 80 years of wear, I can't help but think how dedicatedly and unwaveringly this table has served us. Still in its original home, used by four generations for functions that were so different, from alcohol to theertham (holy water), and yet very much the same, a celebration of our family. Around this table, laden with countless meals and memories over the decades, is where the generations that came before me have grown up and lived.
I don't think the table has ever moved since it was set down in 1942. And I hope it never will.
This object is from a home in Madras. It's part of a series in collaboration With Love, Madras, an upcoming book that explores the city through its homes.