TEXT BY FATMA SHAH AND PHOTOGRAPHS BY ZAINAB HUSSAIN
Lahore, Pakistan
A version of this piece was originally published as 'Vestiges of steps taken' on 24 May 2019, on The Friday Times
Some months ago, my interest was piqued when a white mulmul farshi pajama from the 1920's, belonging to the family's great-aunt Amina Begum or Chachi Biwi, as she was called, was brought to my attention. The garment was clearly a treasured possession, which she had carried with her belongings from Panipat to Lahore and then, eventually to Sahiwal a few months after the Partition. Initially having opted to remain in India, she and her husband were forced to migrate from their ancestral home to Pakistan on three days notice in November 1947.
After Chachi Biwi's passing in 1981, the farshi became a symbol of longing and loss for her daughter Tahira, who also recently passed away in January 2017. It rekindled not just the memories of her mother but the suppressed longing for a history, a heritage, a culture and an identity that had been their family hallmark for generations, and had scattered away with the merciless uprooting after Partition.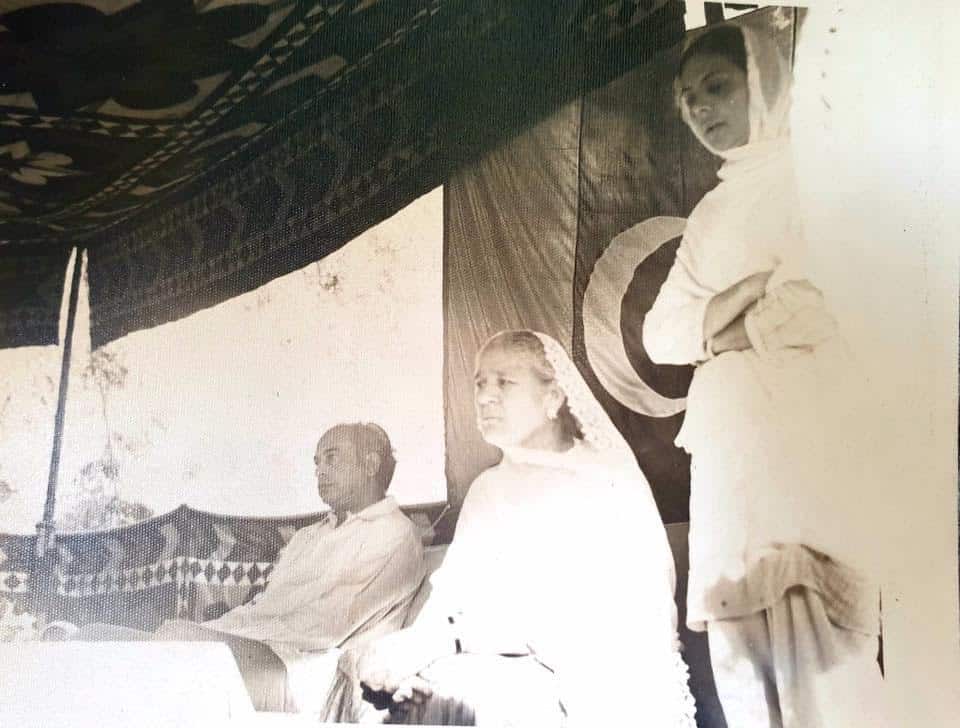 Chachi Biwi, originally from Barast near Panipat, married Akhter Hasan, the youngest of five brothers of the Hakeemwala clan of Mohalla Ansar in 1926, who all lived in their Panipat homes as a close-knit joint family. With their husbands away working in other parts of India, it was the matriarchs who ran affairs of the home – the houses identified by the name of the woman – and they also became the official caretakers and managers of the agriculture land. Quite evidently, Chachi Biwi was a strong woman, who at 5 feet 9 inches eventually raised nine children. A gifted storyteller, her fantastic fables have also been published by her children as 'Heera Man Tota'. According to her son Dr. Mehdi Hasan, that she became a political activist in the late 1960s and rose to become the head of the Women's Wing of the Pakistan People's Party (socialists), was also not surprising. After all the family had started the first girls' middle school in Panipat around 1930. After partition, she had provided shelter to a dozen destitute women and their children, in the premises of her own home in Sahiwal while supporting their educational & vocational pursuits.
According to her nephew in-law Dr Mubashir Hasan, who passed away in March 2020, each season, everything was bought and ordered in bulk by all the young wives and daughters of the family, who exercised agency over what they could and couldn't wear. White was the colour worn in the hot summer months from April to June, when chikan and net kurtas and dupattas, were worn with multicoloured kharra (straight cut drain-pipe) pajamas around the house. However, all the women wore white farshis over the pajama when stepping outside their private domain.
A farshi is a long voluminous garment that generously falls to the ground, and when standing or walking has a long train. The copious flair is meant to be pulled up, folded and either tucked at the waist or draped over the left arm for the ease of moving around. The word farshi comes from 'farsh' or the ground/floor, which the garment trails on.
However, contrary to its name the garment only touched the indoor farsh (floor) of any place, as the women travelled exclusively in small covered palanquins with two carriers. According to Dr. Mubashir Hasan, colours gradually came to inhabit the womens' wardrobes with the advent of sawan or barsat season, when multi-coloured chintz shirts would be worn starched and sprinkled with abrak or mica, and chunna hua mul-mul dupattas with lehriya (multi-coloured diagonal striped) and chundri (minute tie & dye) patterns, were ordered with dyers who visited the house, for the entire season.
The mulmul farshi, a garment with an incredible cut and flair had almost a dozen kalis, – long triangular panels that determined the shape – carefully sewn together. It also had hand-turned seams and was finished with a 3-inch bias-cut border and a chikan braid (lace), invisibly attached with a handmade kingri, a tiny edging of co-joined triangles. Around the waistband was an inexplicable red band, and upon enquiry, Chachi Biwi's daughter, Tahira had explained to her daughter in-law, Rabia, that it was a mark of the owner. When all the women were home, their specific white farshis, all hung together on hooks in the central room or foyer, were identified only by the colour of the waistband.
The family recalls farshis being worn in all parts of the United Province, Delhi, Awadh, Hyderabad and beyond in pre-Partition days, however the design elements of the garments would vary depending on the particular geography. Various permutations of the traditional farshi garments with real silver zardozi and gota work may be seen as family heirlooms, and in private collections and museums across the world today. Eventually, the more manageable Ghararas – akin to the Victorian tiered frock – are what became the de-rigueur as both formal and informal-wear in the 1930s and 1940s and subsequently as occasional or formal-wear along with saris, and the more elaborate farshis became confined to heirloom trunks.
Chachi Bibi's farshi caught the attention of all those who set their eyes on it. Enchanted by its simplicity and elegance, friends, family, artists and fashion designers saw it as a distinct style statement – a peek into an era where life was not only uncomplicated, but each garment was made with purpose. In order to figure out the garment's cut construction and design for anybody to wear similar farshis, an attempt to replicate it as-it-was seemed the only option. A women's co-operative, Better Tomorrow based in Rawalpindi, who still hand stitch traditional ghararas was commissioned and managed to rise to the challenge with overwhelming success, to produce a replica. It turned out to be a perfect fit for Meher, the great granddaughter of Chachi Biwi.
But the farshi was not merely a possession, so it could not merely be a fashion statement either. It had become a stimulus for her granddaughters and great grand daughters by which to re-populate collective memories "and string them into a piece of history" as textile historian Arti Sandhu says in her piece 'Cupboard of Displacement' (Voice of Fashion Jan 23, 2020). Textiles can carry the enduring legacy of a displaced culture and of ancestors, who the younger members of the family never had a chance to meet or know.
A garment made in mulmul became the vehicle that would lead the subsequent generations of the family into a past. It would become a commemoration of a cultural and sartorial history that spanned several generations in an undivided subcontinent. That in their new geography, the families of the four brothers had to settle in four different cities of Pakistan, also meant adopting new customs and disparate ways of life. In later photographs, she is seen wearing a gharara, as did all the other women of the family. It would be fair to assume that Amina Begum was completely oblivious to the cultural displacement that was to follow when they crossed the newly made border. By carrying this seemingly simple garment worn everyday in her life in Panipat before Partition, Amina Begum had also carried with her a culture, which eventually became impossible to retain. These beautiful farshis were never worn after 1947, and nor were there any palanquins. Gone were the ease and comfort and so many other intangibles that an undivided homeland had offered them.