TEXT BY DEBOSMITA SAMANTA
PHOTOGRAPHS BY DEBOSMITA SAMANTA & ARNAB N. BISWAS
Burdwan, West Bengal & Hyderabad, Telangana, India
I arrived in Hyderabad for MFA in 2010, and since then the city has become my second home. I visit my hometown Burdwan in West Bengal only once in a year, but each time I go, I manage to collect an heirloom or two to create my own personal ancestral archive. As of now, it includes a 150-year-old jewellery locker, old copper coins, a few utensils, and a Lakshmi idol, which I am told, is nearly 300 years old. I also have my dida's Benarasi saree that she wore on her wedding day in the year 1960.
Another piece that has become a part of my collection is my maternal great-grandmother's jewellery box. Two years ago, my mother bequeathed this to me, retrieving it from the precious jewelery locker, quite happy to part with it, when she learnt of my small archive.
When I asked her about the box, she suggested I go to my maternal grandmother – or dida as I call her – Pratima Chatterjee. Since she lived nearby, so I made my way over the very same day to write the story down. Taking the box in her hands, she smiled and said "Thik mone nei kobe kena, tobe amar biyer onek agei kinechhilen Maa Benaras theke." She didn't remember exactly what year her mother-in-law bought the box in Benares, but knew that it was already in her possession before my grandmother's marriage.
She gauged that it must have been somewhere around the year 1940. Dida described my great grandmother, Nirmala Devi, as a simple lady who mostly wore a traditionally Bengali saree in white with a red border. She was short and quite healthy, and received five kilograms of gold at her marriage. My great-grandfather, Mrityunjoy Chatterjee, belonged to a zamindar family of Shantipur, Nadia district, West Bengal, and worked as the head postmaster of the state. My great-grandma used the box until her death and then, interestingly, her son [and my maternal grandfather], Rabindranath Chatterjee, gifted the box to his wife, my dida, to use it as her jewellery box. Dida mentioned that for the longest time, she would store her daily-wear bangles in it.
The box is made of brass, peetal, with beautiful Meenakari designs on it. Over time, the colour has oxidized to reveal many hues and discolouration across its surface. It is rectangular in shape and 6.3 inches x 3.5 inches in size. The base and sides of the box are lined with wood. On the lid, there is an interesting image of a lady sitting in a reclined pose, resting her right hand on a red pillow and left hand on top of her left knee. She appears to be from a rich family, possibly zamindari, and her confident gaze often reminds me of Edouard Manet's Olympia, painted in 1863. Her saree is a combination of bright orange, balanced by light pink and green.
This image quite naturally matched to the image that I created of Nirmala Devi in my mind. After all, she was the daughter-in-law of a zamindar family. The single-line drawing of the woman is composed inside an oval frame, making it a prominent, imposing sight. It is highlighted further with the bold use of yellow paint around the frame, and pale violet underneath, painted as a mat that she appears to be seated on. Even though the colours have faded, one can almost imagine the vibrant look of the box when it had been newly bought.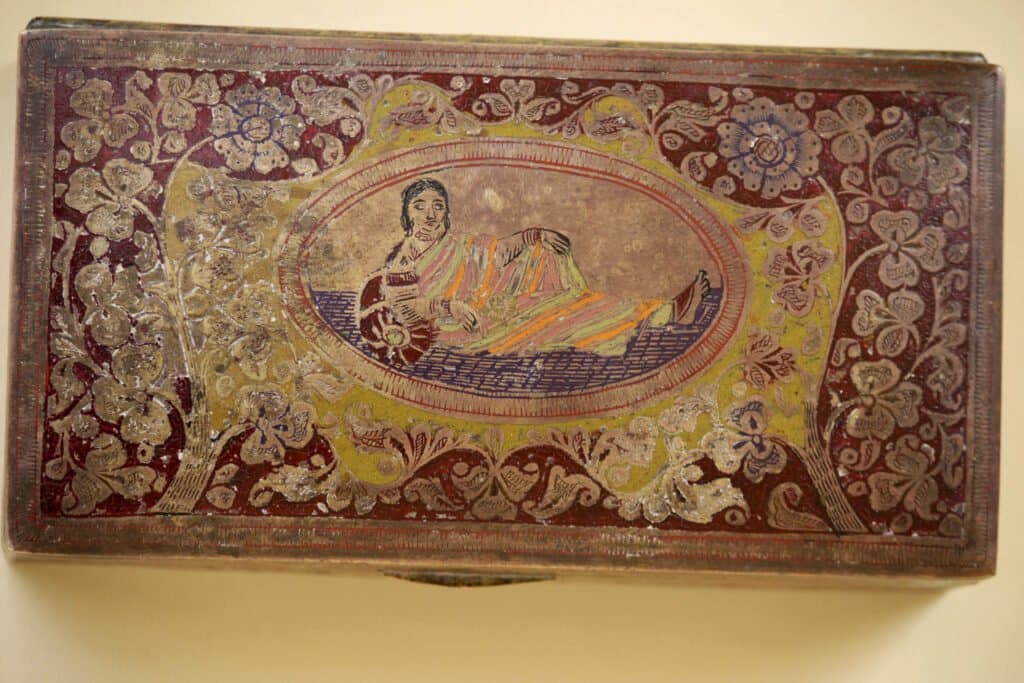 The Meenakari designs run intricately across the top and along the sides of the box, in yellow, dark red and gold. But perhaps the most intriguing thing about this box is my great grandmother's name, Nirmala Devi, engraved in Bengali on the bottom. Dida had stopped using this box a long time ago, but kept in safe in the nearly 150-year-old family locker. This single story led to so many other stories of Chatterjee family being revealed. After my grandfather's death in 2007, dida opened her locker to divide her belongings among her five children and luckily this box came to my mother, dida's eldest daughter.
Now that this box is in my possession, it feels like I own a special part of my maternal grandparents' history. It feels wonderful to witness an object being used generation after generation. I got married a year ago, and along with other presents, I received newer looking jewellery boxes. But perhaps nothing can match the beauty and delicacy of this heirloom box. Continuing the tradition, I too use it to keep jewellery.