TEXT BY SUMATHY KRISHNAN
PHOTOGRAPHS BY VIGNESH SIVAKUMAR
Chennai, Tamil Nadu
The year I was born, 1972, saw my parents moving into their own home in the south Indian town of Madurai in Tamil Nadu. With multiple rooms, garden, a calm and friendly neighbourhood, my parents were happy that here was a home fit for bringing up their son and daughter. As my mother left soon after to her village to deliver me, my father set out to furnish the house. As most of the shelves were in built as was the style those days, he just had to buy a bed and the must-have Godrej bureau for storing valuables. He claims to have finished all this shopping in one evening during a casual stroll from his office, located in central Madurai near the Meenakshi temple. He also recalls that he just gave into a fancy whim and ended up buying a cupboard, though there really was no need given the enormous number of shelves and almirahs in the house. The piece was in display in a furniture shop, and the shop keeper enticed him to pick it up. At Rs 200, it seemed a great bargain for a wooden unit claimed to be made of teak. Thinking about the expanding family, my father ended up buying it, surely a luxury at that time. He proudly recalls that he successfully negotiated a free home delivery for the price. The cupboard was delivered before my mother returned from her village with the baby, me.
The cupboard is a tall and narrow one, measuring 6 feet in height. It has four shelves inside, and a pull-out drawer symmetrically placed in the middle. My parents recall it being delivered with a smooth chocolate finish. The door has a mirror on the outside on top, measuring about three feet by one and half feet. The frame on which the mirror sits has an elegant wavy border. The whole piece speaks of excellent craftsmanship with nice carved patterns on the door. However, my parents say it used to be a slightly coarse and matte finish on the inside and they did have a problem with some powder falling off initially. The drawer is a well-fitting one with a lock. The outer door also had a good smoothly functioning lock. Since we did not keep any valuables in the cupboard, we used to leave the key on the lock. The entire unit sits on four legs and is elevated by about 3 inches from the floor. The gap at the bottom though small, allowed for cleaning the floor underneath it.

We have always felt that the cupboard has a sort of royal, elegant but unobtrusive presence. The cupboard requires minimal maintenance, to this day. To ensure that it retained its shine, we get a varnish coat every 5 years or so, coinciding with the painting cycle for the house. During these varnishes, my father learnt that the unit was indeed made of teak, but a slightly inferior quality one. Technically speaking, this is not a cupboard but a clothes wardrobe. But no one used the name wardrobe or felt the need for a wardrobe those days and it was always called as cupboard in our family. Within a few years after I was born, the cupboard came to be mine and I used it to store my entire collection of clothes till I got married and moved out of this home.
When I was in school, I had allocated one shelf for the uniforms (the most occupied shelf), two for casual clothes and one for formal wear (which you could count in one hand). Most school days, I would be in a rush and pick up a uniform set. But in my middle and high school, we had Thursdays as 'colour dress' day. These were anguishing to put it mildly. I would spend a lot of time going over the colour dress shelves on these days, as though some genie would have added a new set of clothes there without my knowledge. Sometimes I would give up and end up wearing the uniform on Thursdays too. I distinctly remember how I used to stand and poke my head inside the cupboard on those days, holding and swaying the door.

I remember a terribly anxious day in school, and I believe the cupboard rescued me. We used to have a sewing class every week and we were given a strip of mesh where we had to demonstrate a particular stitch. I hated stitching, and consequently the sewing class and the teacher (she was a terror). I would request a kind classmate to help me out during the lunch hour and have the piece ready for the class (thank God these extra curriculars were always in afternoons). Once I could not find the mesh during the class and I was strictly warned that the matter would be escalated to the class teacher if I did not submit it the next day. I emptied my school bag and enquired with every one of my classmates but could not find it. I was in tears when I came home that day. My mother told me to check the cupboard. Oh, the joy and relief of finding it wedged at the back of the cupboard was enormous. I guess I must have put the piece in the cupboard while changing from my uniform.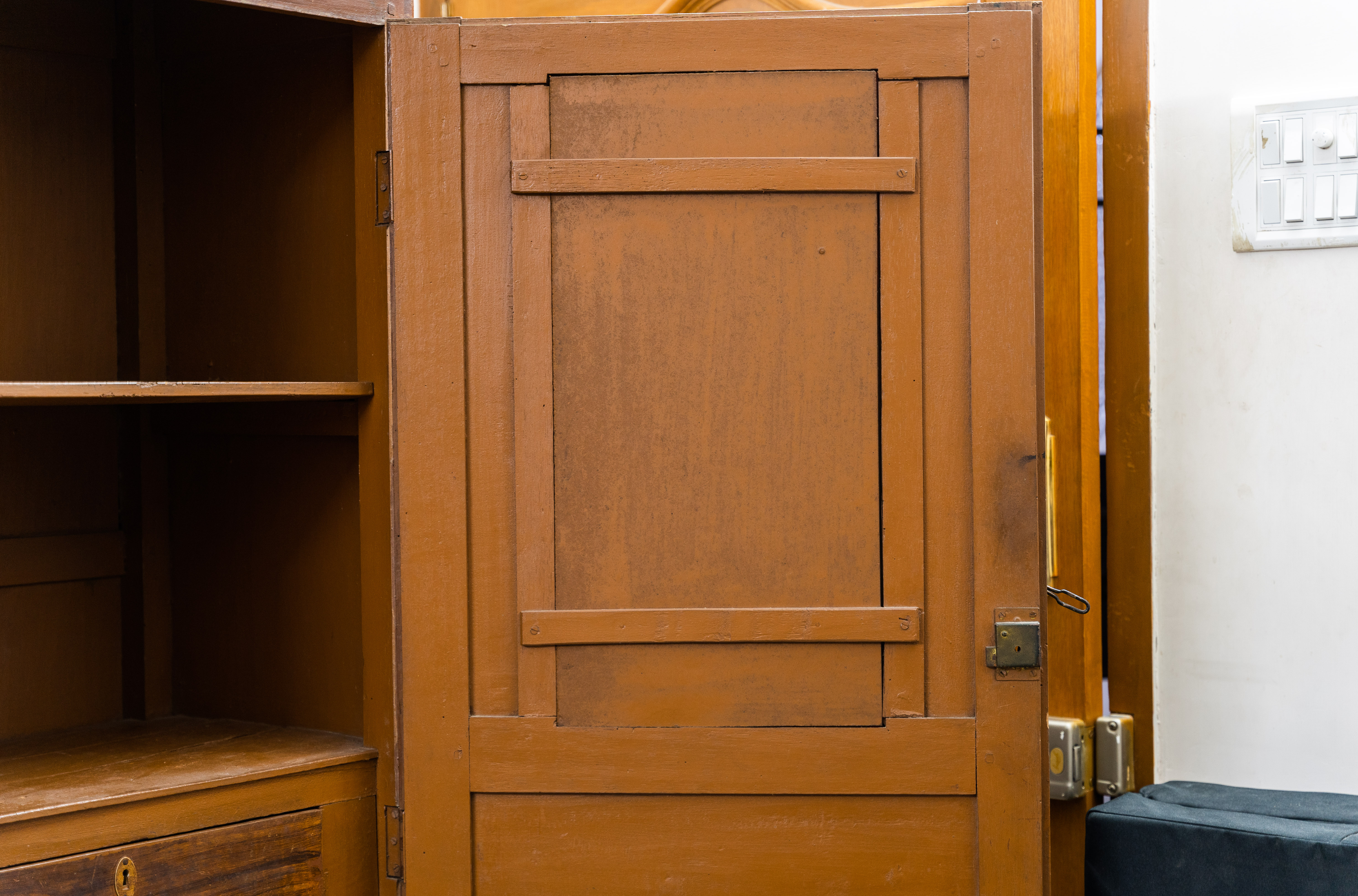 I have a lingering memory of what it smelled like, which was nothing to do with the material. Sometime in my teens, my mother started buying 'flower dusts' – the perfume filled pouches that would spread their gentle aroma in the shelves. I would ensure I got a supply of four for each of my shelf in the cupboard every few months. I loved that mild waft of sandal/jasmine aroma as I opened the shelves.
The drawer in the cupboard had nothing special except my cherished handkerchiefs and undergarments. I became a handkerchief addict in my 6th grade, enamoured by the convent sister who inducted me into the 'hankiedom'. Ever since, I have never ever stepped out with a handkerchief and the drawer had the honour of storing them.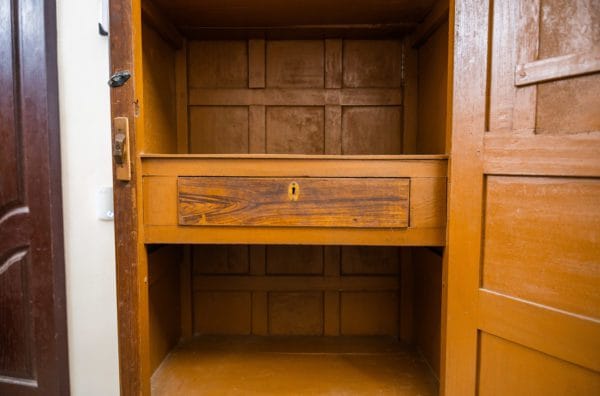 The cupboard was originally placed in the only bedroom in our house in Madurai (while the house itself was big, it just had one bedroom when it was constructed!). When my parents remodeled it a decade or so later, a bathroom at the back was converted to a small dry room and was given to me as a sort of dressing room. The cupboard was moved to this room, barely leaving any space except to just stand in front of it. Imagine the luxury of having a dressing room with a cupboard and mirror for a teenager! Though I was hardly a 'dressing' person, I put the privacy and the cupboard mirror to an interesting use. I was a competitive speaker in my school days and participated in many speech and debate events. As I grew up, this evolved to holding events. I started loudly rehearsing my parts / speeches in front of the cupboard mirror in the privacy of the room. This helped me to get the accent and the body language right and gave me enormous confidence somehow to face the audience. While I miss the cupboard, I continue to do this rehearsing in front of a mirror to this day.
As I entered college, the uniform shelf in the cupboard gave way to semi formal / formal clothes. Around this time, my brother started working in Bombay. He would splurge on dresses for me, and the cupboard saw the best of times during these years.
As I left this home in Madurai in 1995 to pursue higher studies and later to take up a job, my mother retained a couple of shelves in the cupboard for my stuff and took over the rest. But after I got married in 1999, I emptied the cupboard and gave it up. In 2001, the cupboard moved with my parents to Chennai to the home they rented near my brother's family. During this transit, both the outer door and drawer keys were lost, or my parents could not find them later. They got a metal latch fixed to keep the door closed. My mother found this cumbersome to use. So, they found a rustic solution of having a rotating wooden block to keep the door in place. By then, it had become my mother's wardrobe and it continued to be so till my parents moved along with my brother's family in Chennai into a larger house in 2016. The cupboard was then relegated to an upstairs room in that house as my parents' bedroom had enough built-in storage and there was no space left for this unit.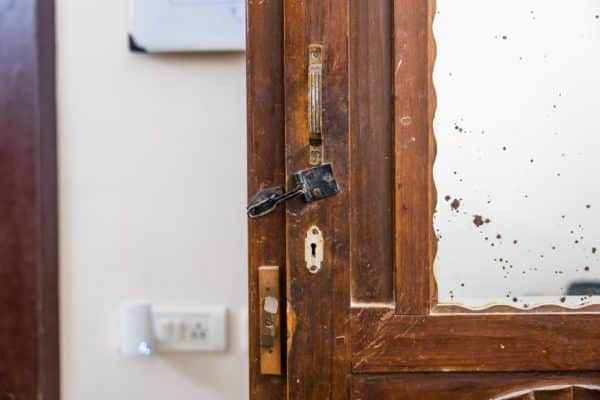 Till the time the cupboard was being used by my mother, I used to spend some time admiring it and sort of introducing it to my kids, whenever we visited my parents. But it had started to vanish from my memory when it was moved upstairs in their new house in 2016. Recently as I was visiting my ailing mother, I had to sleep upstairs as the other rooms downstairs were occupied. I was surprised to see the cupboard there still in use. It is now used by my nephews who use it to store odd items, for their hobbies. Thanks to the regular varnish, cupboard looked as beautiful as ever. The mirror though has lost its polish at places. The shelves inside had been coated well and there was no powder falling off. The drawer worked as smooth as ever. I felt that the metal latch outside that was fixed later, was an eye sore, and I made it a point to request my brother to remove it during the next varnish cycle. The cupboard surely had the charm still and the sight of it transported to my Madurai days. I was flooded with fond memories and a melancholic feeling too as we were seeing the last days of my mother. I ended up joking to my father that I should have taken it as dowry.
I took some pictures of the cupboard for the first time during this visit in December 2021. A few weeks later, my mother passed away. As we cleaned her shelves in her bedroom, I remembered the contrast on how I used to keep the cupboard messy, and she always had neatly arranged clothes in them. The cupboard surely triggered nostalgia but also beautiful memories of my childhood. While I was overcome with a desire to ask and take it for myself, I held it back. It is only apt that it passes on and hopefully continues to create beautiful memories for the next generation!