TEXT BY KARAN SINGH MATHAROO
PHOTOGRAPHS BY AANCHAL MALHOTRA
Maassluis, The Netherlands and New Delhi, India
My penchant for antiques is well known amongst my family, and seeing this, my uncle once told me that the family still had, in their possession, a set of glasses which were specially bought by my maternal grandfather, Rajinder Singh Birdi for my great-grandfather, Baldev Singh Ghatori. Along with that, were also a collection of photographs of my great-grandfather using the glasses. Earlier this year when I came from Holland to Delhi, I asked my uncle about them and learnt that the glasses were kept in the cabinet in my grandmother's room. It was when I first held them in my own hands that I realized how they were special for me, because they'd once been used by someone who inspires me to continue on in life.
My grandmother recalled how my grandfather had actually bought them in the mid 1970s from a shop in Pragati Maidan, Delhi. At the time, there were two sets of six glasses each. Of one set, now four remain and have a diamond shaped cut-glass pattern, with an ornate leaf pattern around the edge. Of the second set, there is only one left, which has a beautiful pattern of stars engraved through its centre, connected by delicate semi-circular lines.
These glasses are classically meant for brandy – the shape making it easier to cup in one's palm, which warms the glass, which in turn releases the aroma and flavour of the brandy. Whisky glasses come in many shapes, and the tumbler is most commonly used in India, but it was these classy, round-bottomed glasses that my grandfather and great-grandfather used to drink from. Though with time, they have lost their shine, many memories remain attached, and they are still occasionally taken out of the bar.
The photographs of my ancestor with the glasses were in an old suitcase full of photo albums. They were taken in 1985 by my grandfather, R.S. Birdi on a Kodak camera which belonged to his sister, who had travelled from Madras to Delhi to see my twin uncles. My great-grandfather, too, came with his youngest daughter to see his grandsons for the first time. Present also was my maternal grandfather's uncle, Ram Saran Birdi known as 'Lal Baiji' for his red turban. All can be seen in the pictures. Both men are having fish fry, salad, and namkeen snacks; there is a jug of water, a bowl with ice, and pegs of 'Herbert's Fine Whisky' served in the glasses on the table.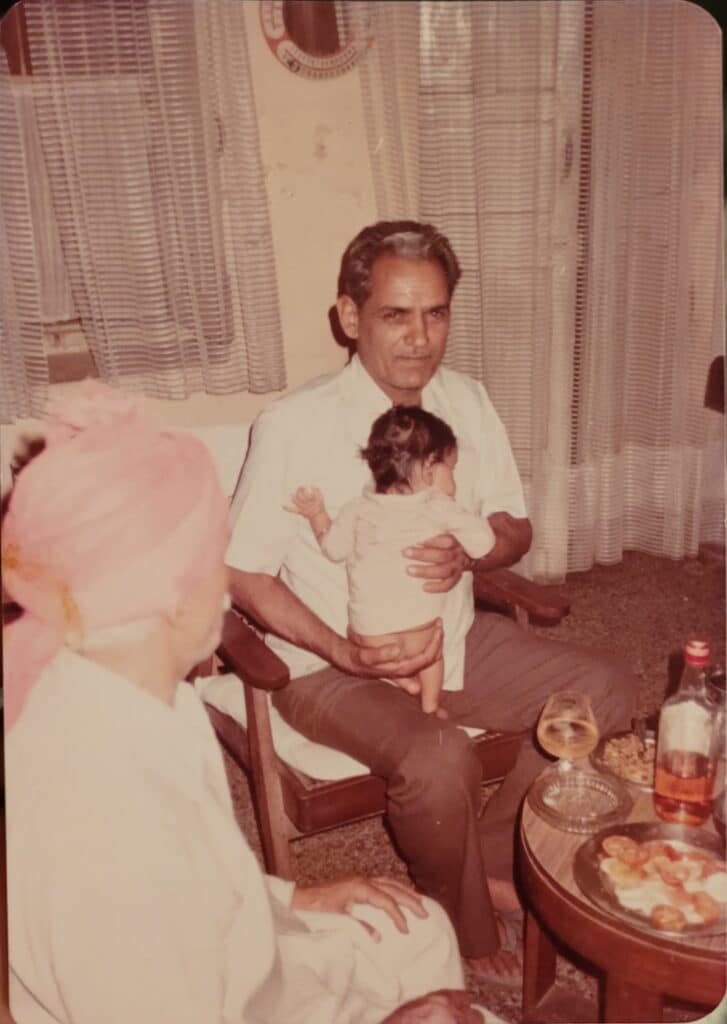 My maternal great-grandfather, Baldev Singh was born in British India to Mangal Singh and Asha Devi in a working class Ramgharia family in Maneli, Punjab, and grew to be a renowned foreman. His father and uncle, Hari Singh had a factory where they manufactured agricultural implants. It was around 1938 when they moved to Morinda, also known as Bagaan Wala or 'The City Of Orchards' in Roopnagar (then Ropar), where they repaired horizontal engines and started a flour mill and oil extraction business. He was the second of three children, and his father passed away when he was only seven. He was in the fifth standard, could read Urdu and Gurmukhi and was very good at mathematics, but dropped out after his father's demise.
He started working for his uncle, some years later, he started making steel buckets and trunks known as 'petis'. Being young, he picked up the work quickly, as time went on he came to be locally known as 'mistry-ji' Due to his tough job and being an avid kabaddi player, he had a well-built physique, which is something he is still remembered for. He got married to Preetam Kaur Reehal and had five sons and two daughters. From my grandmother and her siblings, I have heard stories of their father taking part in rallies against the British Raj during the Independence movement, and his experiences of Partition. While guarding his neighbourhood during the riots, someone from the second floor of a building hit him with a stone on his head, but he was saved by his turban that night.
In 1950 he went to Bhav Nagar and worked as a foreman in a steel rolling mill. When the owner fell ill in 1952, Baldev Singh left Bhav Nagar and moved to Mandi Gobindgarh which is known as 'Steel City'. By this time he acquired a great reputation and was known as 'Ustadji' or 'Foreman Saheb'. Newly-independent India needed lots of steel, and to meet this demand, rolling mills were set up in areas like Mandi Gobindgarh, Hyderabad, Gujarat, Bombay and Indore. Mill owners needed foremen who were masters of their craft and could keep a mill running and make sure all the workers did their job right. My great-grandfather, being an expert, was highly in demand for his skills and was rewarded generously by mill owners. He invested his money in real estate, owned a Royal Enfield and an Ambassador car and would later set up his own rolling mill called 'Vishwakarma Steel' in Hyderabad where he lived until the mid 80s. After selling the mill he moved back to Mandi Gobindgarh and retired. Due to his renown he was still the person many foremen and rolling mill owners turned to for advice. My mother told me about one such occasion, my great-grandfather got a call from a mill owner who told him that his mill was stuck. My great-grandfather helped him out over the phone at home in retirement. The mill owner was so happy that he sent my great grandfather a bottle of whisky!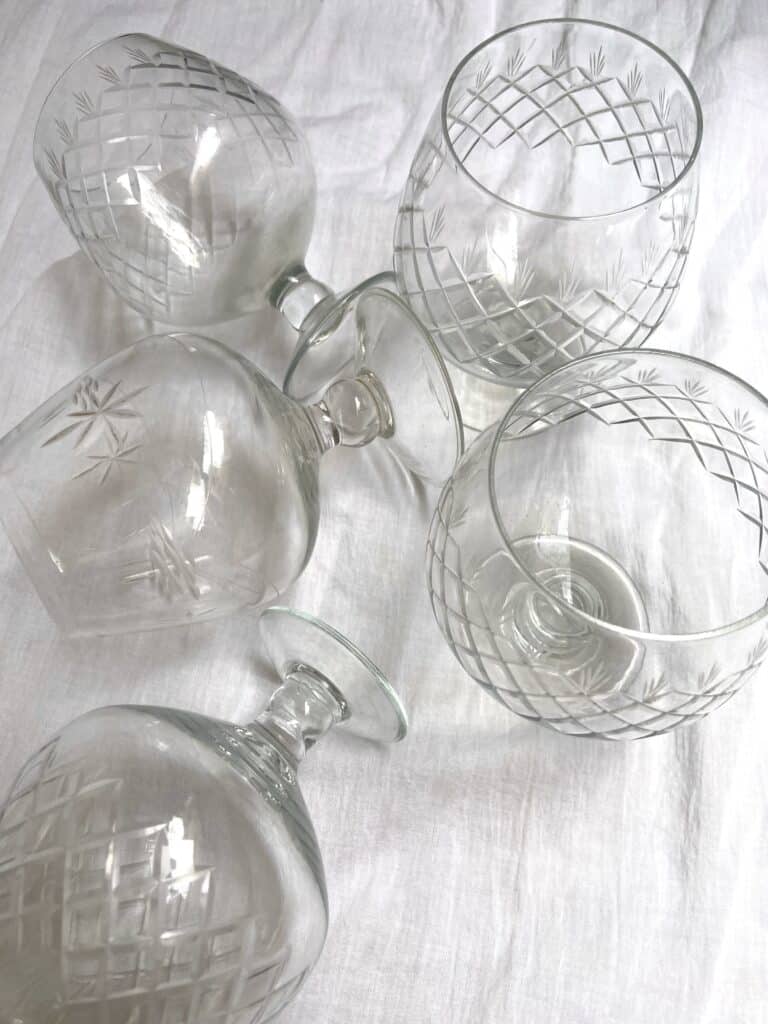 Magandeep Singh, the author of The Indian Spirit: The Untold Story of Alcohol in India (Penguin Random House, 2017) writes in a piece for Condé Nast Traveller titled 'Why do Indians love their whisky so much', of the introduction of Scotch Whisky in the subcontinent as having arrived just before WW1 broke out, "amid much protest from the local authorities who rebutted that India already had a leisurely local intoxicant – cannabis". Seeing no need to add another, they also questioned the health impact of Scotch, and a Hemp Commission was set up to gauge the potency of scotch vis-à-vis cannabis. Finding them at par, the Commission allowed the import of Scotch into India. Singh writes that ––
"In 1909, William Grant, a pioneering Scottish entrepreneur and founder of the eponymous whisky trading house, sent his son-in-law to the subcontinent, who in turn, went travelling around by train and bullock cart, meeting clients, conducting trials and taking in orders. . . The English gentry needed no convincing and bottles started featuring on back shelves around the country at prominent clubs and sports bars. From there it trickled down to the Indian uniformed officers who, in a bid to be seen as socially upwardly mobile, switched from the regular arrak and rum to whisky. And gradually Scotch kept making inroads into every social event and ceremony, soon making India its most cherished home away from home."
Which brings me back to the vintage whisky glasses. Baldev Singh liked good food and along with that, his evening drink, which was always whisky. He'd often recite poetry of his own or others, sing a song for his wife or tell stories from days gone by.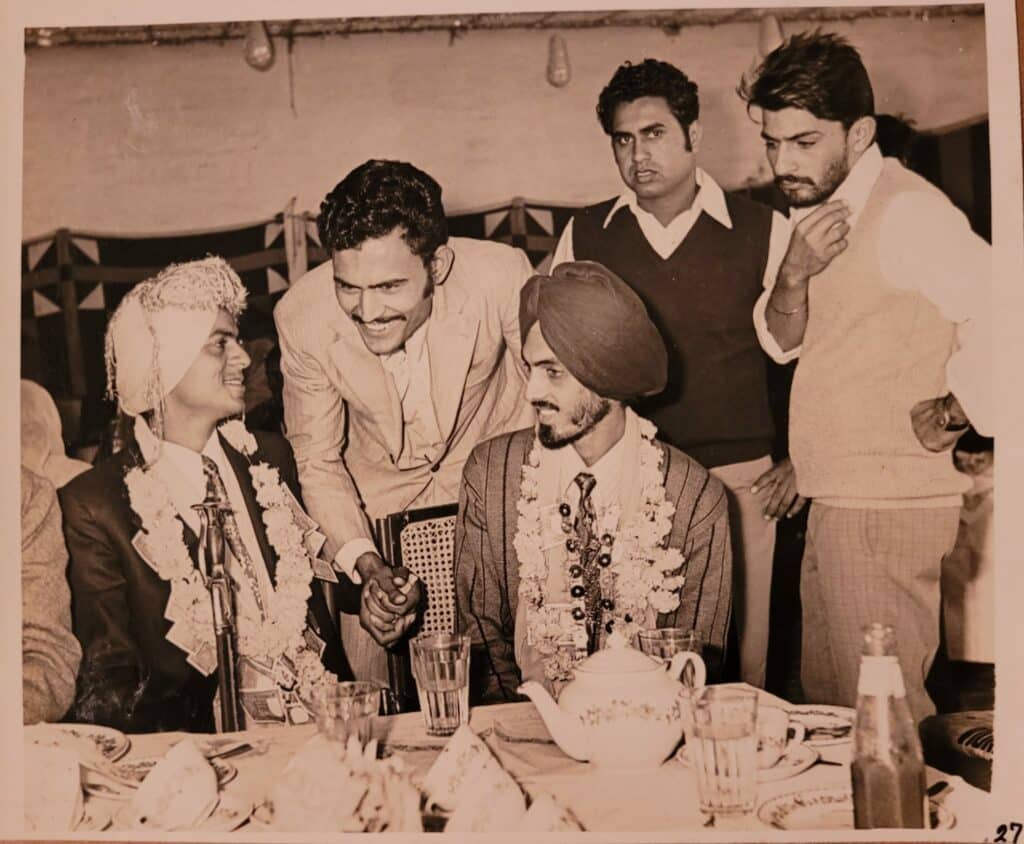 His grandchildren remember their grandfather or 'Bade Papa' as a very intelligent and wise man. Though formally not highly educated, he was well read and one could talk to him on just about any subject. He learned the ways of the world the hard way, and despite living through British rule, his father's demise, poverty, and Partition, still maintained a positive attitude and made his dreams come true. He doted on his mother who had gone through much hardship after the death of her husband, and when my great-grandfather acquired wealth, he made sure that she lived like a queen, with want for nothing. He passed away in Mandi Gobindgarh in 2012 due to natural causes right after his daily prayer of Japji Sahib. But even now, each time these glasses are taken out of the bar, they never fail to start conversations about my great-grandfather. Back in Holland, as I think about them, I realise their significance, and how they were once held in the same hands whose ideals and life lessons have been practiced and passed down to me by my family.