TEXT BY ANURAG ANAND
PHOTOGRAPHS BY ANURAG ANAND AND NAVDHA MALHOTRA
New Delhi, India
As we opened the grey trunk or the 'sandook' as my grandmother would call it, the metallic smell of ageing iron engulfed us. There was dust in the air which meant that it hadn't been opened for a very long time. In fact, it was being used as a side table by my paternal grandmother, Prem Kanta Anand to place her water, books and cosmetics. As we started scanning through her belongings, a small pouch lying in the corner caught my eye. What we found in it were treasures of her past that have traversed through our country, stood the test of time and remain in good shape- her treasured coin collection!
My grandmother was born to a family of police officers on June 19, 1934 in Lahore, now in Pakistan. As the first daughter of Puran Chand Chadha, a high ranking police officer in British India, her childhood was rather smooth. She was very popular among her peer group and was known for her beauty and elegance right till the time she breathed her last on May 25, 2012 in Bangalore. Even on her death bed, her face shone like a diamond and was popularly known as 'sundariamma' or 'beautiful mother' by the nurses looking after her.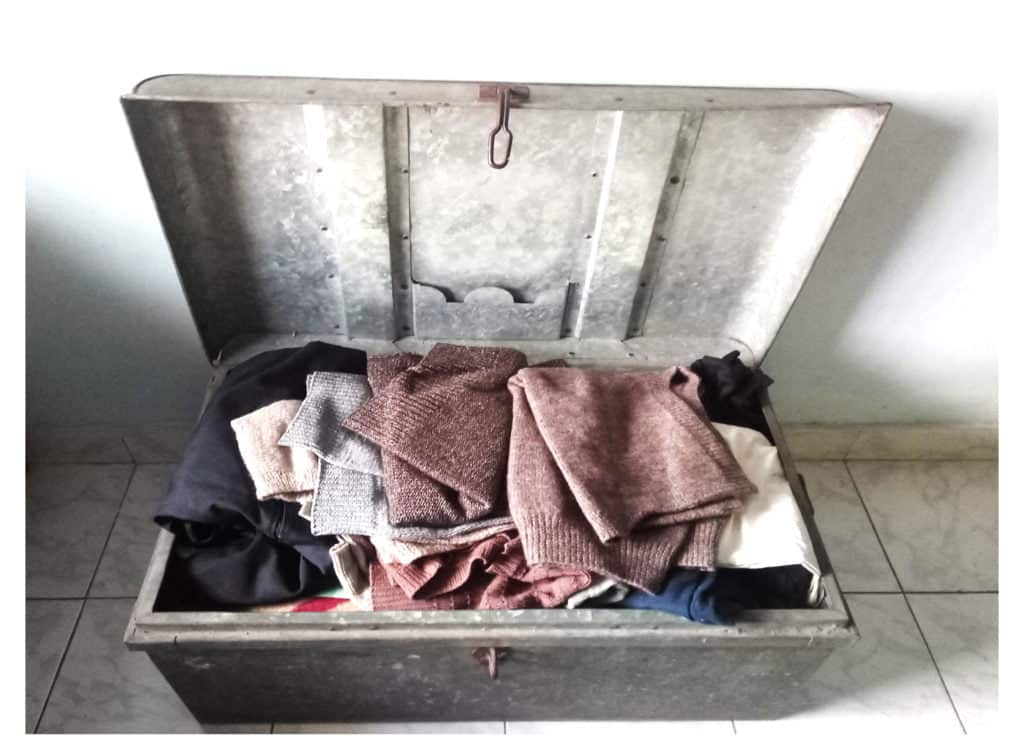 The 'sandook' that belonged to her had some of her key belongings but would be opened only when necessary. Most of the time, it was placed right in front of the mirror housing her cosmetics which she was very particular about. She looked after herself very well, with health and beauty. Her skin was smooth and soft as silk and I always remember pressing the veins on her hand with my fingers because I liked how soft they were.
Since the trunk was rarely opened, we almost forgot that it was an iron trunk. I remember the smell that emanated from the rugs and sweaters my grandmother had knit. The smell of the wool reminds me of my childhood, a multi-coloured sweater she had knit for me and the days we'd get the sweaters out to wear them to school on the first day of winter in Bangalore.
Dadima's coin collection goes back to 1919 and was being used in Pre-Independent India. It has travelled to every new city she ever moved to including Jaipur, Bikaner, Delhi, Chennai (then Madras), Mumbai, Vadodara and finally in Bangalore where she spent the final years of her life. I assume these coins were discontinued after partition since the new one rupee coin that came out in 1947 had the carving of a tiger on it and not The King of England. Going by the mint marks, it seems that these were made in cities like Lahore, Kolkata and Bombay while many of them were also minted in Pretoria, South Africa. Made of bronze and copper, the rugged engraved images of King George V and King George VI are proof that they belonged to the pre-war era and the first half of the 20th century.
Some of them are in perfect condition while others are worn out and it is quite an effort to study what's really engraved on them or the year they were brought into circulation. There are 1 Pice coins from 1943 and 1944. The value of 1 Pice is 1/4 Anna which is equal to 1/64 Rupee. The 1 Pice bronze coins have a hole at their centre. Some of the other coins have floral designs and animals engraved on them with their denominations engraved in the centre. All of them have India engraved on them.
The first time I saw these coins was when I was 10 years old and we were shifting houses in Bangalore. It was my inquisitiveness that led me to ask her about them but since I was quite young, I forgot about them.  I never paid attention to these objects until recently, when I rediscovered them in the trunk and I had more time to appreciate them.
Here are details of some of the coins on which the engraving is legible:
One Anna coin from 1944:
No mint mark below the year indicates that it was minted in Calcutta.
Obverse: Crowned Head of King George VI  with the lettering: GEORGE VI KING EMPEROR
Reverse: Denomination, date below within floral pattern. Value of the coin (one Anna) in 4 language: Urdu, Telugu, Bengali and Devanagari around the edges.
One Quarter Anna coin from 1939:
Lack of 'dot' mint mark indicates that it was minted in Calcutta.
Obverse: Crowned head of George VI facing left with the lettering: GEORGE VI KING EMPEROR
Reverse: Date and denomination of the coin within a circle of beads surrounded by a floral wreath
1 Pice India from 1943:
The 'dot' below the year indicates that it was minted in Bombay.
Obverse: Small date, small legends, rounded crown
Reverse: A floral wreath surrounding the hole
One Quarter Anna coin from 1936:
Lack of 'dot' mint mark indicates that it was minted in Calcutta.
Obverse: King George V crowned facing left with the lettering: GEORGE V KING EMPEROR
Reverse: Denomination and value of coin with year within a circle of beads surrounded by a floral wreath
Half rupee coin from 1947:
Minted in Calcutta
Obverse: Crowned head of King George VI facing left with the lettering: GEORGE VI KING EMPEROR
Reverse: Indian tiger (Panthera tigris) facing left with the legend and date below. Surrounding this is the value in three languages English, Devnagari (Aadha Rupya) and Persian (Hasht Aanay). Lettering: आधा रुपया HALF RUPEE هشت آنہ
My grandmother's attachment to objects is evident in the way she maintained her belongings especially the photographs and the coins in her trunk. She would tell us that this collection was a result of her savings as a child when her father and grandfather would give her pocket money for some delicious 'cholay kulche', 'poori cholay', 'ice candy' and 'kulfi'. One of her best qualities was that she was gifted with the art of saving although she came from an extremely privileged family.
When talking about these coins she would always go back to talking about her life before Partition. These would start with the coins and lead upto her childhood, her memories with her grandparents and her eight siblings. I remember that she would never make eye contact when she spoke about what all they had to give up during the Partition including the 'haveli' that still stands tall in Lahore overlooking river Ravi and the old cupboard filled with toys and her dolls. Dadi ma wouldn't show these coins to many. I assume this was because it was one of her few remaining links to a life she had and her past.
While she belonged to a family of reputed police officers under the Raj, my grandfather, Bharat Bhushan Anand, was the first son of a freedom fighter and Congressman, Haveli Ram Musafar. Two extremely different ideologies and pasts that came together after the partition. Her life with my grandfather included a lot of relocating and socializing. She was fond of making new friends and meeting new people since dada ji's job required him to travel frequently. They were the most romantic couple their peers knew of. I remember my father mentioning incidents where my grandmother would light his tobacco pipe despite being strictly against smoking. She would do this because she thought it was extremely stylish and she would even prepare the pipe for the smoke for him.

The coin collection is almost 100 years old! Preserving these coins and many of her memories is an attempt to keep our family heritage and history intact. We plan to keep the coins the way they are. They are a reminder of the legacy we are carrying forward. The collection is with me in Bangalore and will be traveling with me wherever life takes me. It is also a reminder of how life can change with one incident that you are part of without any fault of yours.
We might be the last generation to witness or hear authentic stories of the Partition and what India was before it from people who lived through that era. Such memories are a gateway to learning and understanding our roots.