TEXT BY SHIVAM GIRI & AANCHAL MALHOTRA
PHOTOGRAPHS BY SHIVAM GIRI
Ramnagar, Uttar Pradesh

Mitlesh Giri, my grandmother, Maaji, is 89 years old. She was born in 1929 in Haridwar Uttarakhand, in saawan, the fifth month of the Hindu calendar, though the exact date is unknown. As a ritual, she has been presenting silver coins to each of her grandchildren when they turn 22 years old. It might seem odd, but perhaps that is the age she considers children to be grown up enough to take care of a coin minted in solid silver. My younger cousin has a 50 paisa coin and another holds a 25 paisa coin. My own coin was bequeathed to me on July 13, 2016. A one rupee silver coin from 1906. Initially, I gave it to my mother for safekeeping, but on our next visit home to Ramnagar, I decided to ask her more about it.
"Babu iss umar ab kya hi yaad rehta hai, sikka hi to hai lekin dhyan se rakhna," she said to me in Hindi, "Now what can I remember at this old age; it might be just a coin, but handle it with care." Nothing more was offered to me in terms of history of the precious object. Then upon asking my grandfather, babaji, about it, I got the same answer.
It shocked me at first how heirlooms of such age could exist without amassing their own curious histories. It made me more adamant than ever to unearth the story, if not of all coins, then certainly the one that I had received. Still in pristine condition, devoid of any cracks, but worn down now with age. The obverse of my coin shows the head of King Edward VII, and on the reverse are inscribed the words, 'ONE RUPEE INDIA' in English and Urdu with branches of delicate flowers surrounding the words. A Crown sits above the inscribed words and the year, 1906, at the bottom.
The obverse of the coin

The reverse of the coin

Keen as I was to find out more, everytime my grandmother visited us, I would show her the coin and unfailing, like before, she would ask me to take care of it and keep it someplace safe. Then in January 2018, when she was visiting us, I noticed her sitting by herself, sliding the coin back and forth in her hands, and carefully scanning it as if searching for something. I called out to her, asking if she had finally remembered something more about the coin, "Maaji, kuch yaad aya?"
Her response that day was unlike anything I could have imagined. "Meri ma ka tha yeh, this was my mother's," she said, "yeh sikka nahi hai betaji, gehna tha meri ma ka. She told me that it was no mere coin, but rather a piece of her mother's jewellery. With that, her eyes moistened and she finally narrated the tale of her childhood. Maaji had never seen her mother, she passed away while she was very young and so Maaji was raised by her aunt. All the memories she has of her mother have been collected from conversations, recollections and anecdotes told to her by her aunt.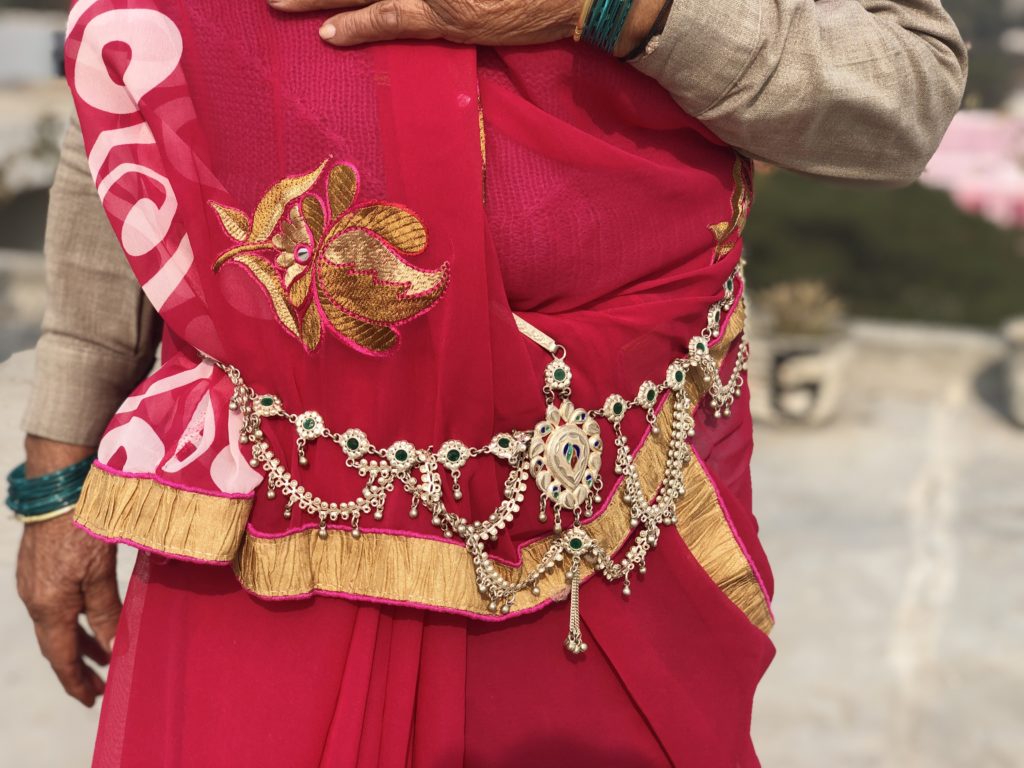 Over the next few visits, more details kept being added to the story of the coin. We learnt that it was a part of Maaji's mother's tagdi, the silver belt she wore around her waist on top of her sari, which was eventually bequeathed to my grandmother. Tagdi designs differ across the country – In the North, it is generally a silver chain from which dangle ornaments, charms or in this case, precious coins. In the south, a tagdi is generally a broad belt of gold, fitted, at times, with jewels. The tagdi is worn often by brides over a draped sari, to accentuate their waists. So, the story goes that so beautiful was her mother that when her future father-in-law came to see the young girl, he immediately liked her for his son, and presented her with a silver coin. This silver coin, to be exact. A token, a marker, a gift. The family was well off, for coins like this were worth quite a lot in the day. Maaji tells us that the two coins that now belong to my cousins were also a part of this ornament, as was a fourth one, which she is holding onto until my 8 year old cousin is old enough to inherit it.
The tagdi became Maaji's mother's favourite ornament and according to her aunt, she wore it all through the day and night, safeguarding as if it was a treasure. "Saare angan mein ghoomti thi teri maa ye sikko wali tagdi pehen kar, na sote waqt utarti jaise khajana hi mil gaya ho". It was tradition in our family for women to wear a tagdi with coins on it. In fact, it was status symbol- the more coins one had in the tagdi, the higher status she had in the household. The coins, naturally, were presented by an elder, like an in-law or one's husband, anytime they wanted to bestow a gift upon the women of the house. Maaji has presented my mother with five such coins, as she is the elder daughter-in-law of the family. The tagdi has also passed down to her – though it is slightly altered now in style- making her the third generation in our family to wear it.
Mitlesh Giri, wearing the tagdi over her sari

Detail of the tagdi with the 1906 coin placed atop it

I later learnt that the history of the 1906 coin, though romantic and beautiful, also bore a shade of darkness. During the Partition of India in 1947, my grandparents, with their five children, resided in Issarpur, Punjab. The village was not exactly near the imminent border with Pakistan, but close enough for communal riots to infiltrate the otherwise religiously harmonious environment. My grandmother recalls days where they wouldn't be able to leave the house, surviving without food or water, because of the unrest outside. She recalls farmer's crops being burned, the land transforming into fire and ash. So the family decided, when it became safer, to migrate to Ramnagar, Baghpat District in present day Uttar Pradesh. They were afraid to carry much, but the coins were too precious to be left behind. They were carried, hidden in between the ponytails of my aunts and the braided parandi of my grandmother. Along with them, the family carried a portable radio as well, perhaps to keep up to date with the news, and made their way to Ramnagar, where most of my grandparents' family already lived.
Even there, fear for their future remained though. Maaji recalls sleeping on the roofs, knives hidden underneath their pillows, a barricade of bricks fortifying the roof, in case there was an attack in the middle of the night. They'd listen to reports of massacres in other parts of North India, but thankfully, Ramnagar was unaffected. But still, the place was new and they couldn't survive on the kindness of relatives forever, and so my Maaji divulged sadly that one by one, to buy land and construct a home, the couple had to sell whatever valuables they had, including the pure silver coins.


The courtyard of the house in Ramnagar

Some of the coins that were carried during the Partition from Issarpur to Ramnagar

"Lekin Masterji [which is what she called my grandfather, Ranjeet Singh Giri] ne haar nahi maani, he did not lose hope," she tells me that my grandfather didn't lose hope and gradually, acquired enough money to buy back each of these coins, returning them to their rightful owner. "Meri maa ko mujhe lauta diya, your grandfather returned my mother to me." After hearing my Maaji's story, the silver coin from 1906 is not just a gift, rather a memory of a child who has never seen her mother, a totem signifying a new beginning, and a reminder of the value of my grandfather's hard work and undying perseverance to return my grandmother's past to her.
But there remained yet another interesting twist to the story. Every year on Diwali, we visit Ramnagar and this year, while cleaning the house, my grandfather found a coin – an identical one like my grandmother had given me, One rupee from 1906. The only difference between the coins is in their conditions- this one is worn out and has black marks on both the sides. When I asked my grandfather about the coin, as I had once asked my grandmother, he was quick to say that he had absolutely no idea where the coin had come from, "Beta, mujhe toh pata hi nahi nahi key eh aaya kahan se!"
Should I call this a story of fate or coincidence? Two identical coins part of the same family- one that is infused with memory and nostalgia, and the other that has shed its very history over time.
Mitlesh & Ranjeet Singh Giri

The twin coins from 1906

Shivam Giri with his grandmother