TEXT AND PHOTOGRAPHS BY ANU VARMA
Seattle, USA
As I look at the intricate patterns on this Silver Kangri, I am reminded of the majestic Chinar trees of Kashmir, for the surface of this object too, is engraved with the Chinar. Growing up in India as an army brat, we moved frequently. Eventually we settled in Delhi, and today, I live thousands of miles away in Seattle, USA. Over the years, I have brought across many photographs and family heirlooms from my parents' home in Delhi, in an attempt to create a sense of rootedness and familiarity. Our home in Seattle then, is not so much about a particular style or design, but is instead, filled with family heirlooms that connect us to our roots.
Some of the pieces I hold most dear belonged to my maternal great grandfather. These heirlooms were passed down to my maternal grandparents, then to my parents, and eventually they were bequeathed to me. My great grandfather's name was Dr Sachidananda Sinha. He was born in Bihar on November 10th, 1871 and died on March 6th, 1950. He read law in England and then returned to practice in India. Over the course of his life, he was a lawyer, parliamentarian and a journalist.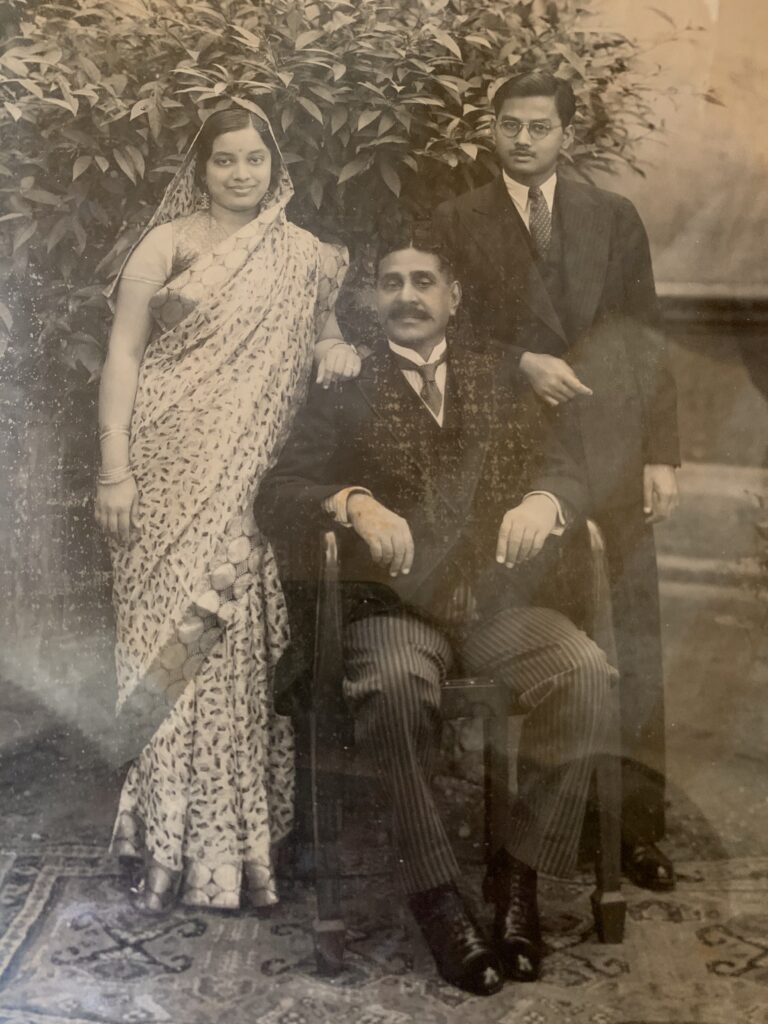 He spent the years from 1889 to 1893 in England, where a small incident -where he was unable to point out his birthplace of Bihar to his English friends – sowed the seeds for the desire of a separate state. While still in his twenties, my great-grandfather, along with a small group of people, launched the movement for a distinct state of Bihar. Upon his return from England, he joined the Indian National Congress and became involved in the Independence Movement. Further, he became a member of the Imperial Legislative Council as well as the Indian Legislative Assembly. In 1910, he was elected to the Bengal Legislative Council where he formally raised this demand for the separate province of Bihar. In 1911, at the famous Delhi Durbar, this dream became a reality, when the government declared Bihar and Orissa as separate provinces from the Bengal Presidency.
In 1946, just a year before India was granted independence, my great grandfather had the honour to serve as the Interim President of the Indian Constituent Assembly. In this role, his last great act before passing away was to sign the Indian Constitution on 14th February 1950. India's first President, Dr Rajendra Prasad, had sent the historic document to Patna, as my great grandfather could not travel to Delhi due to ill health. There, at a ceremony in his house attended by all kinds of dignitaries, he signed the Constitution of India.
In January 2015, when US President Barack Obama visited India, he was presented with a copy of the first telegram sent from the US to India in 1946. It was sent by then acting Secretary of State Dean Acheson and was addressed to my great grandfather, congratulating India on its forthcoming independence.
Apart from a flourishing political life, my great grandfather was also a great collector of artifacts. His travels and broad and varied interests developed into an appreciation for beautiful things. His love for fine china, cut and etched glassware and silverware was unmatched. Four generations of the family have enjoyed this collection. In 1894, my great-grandfather married my great-grandmother, Radhika Sinha, originally from Lahore, and in the early 1900s, they went on a trip to Kashmir. It was here that they bought several ornate items that have built this coveted heirloom collection, including the silver Kangri engraved with the Kashmiri chinar.
The design for this kangri is inspired by the traditional fire-pots that are used by the people in Kashmir to keep people warm during the severe winter months. A traditional kangri is normally made of terracotta filled with glowing embers and encased in a handmade wicker basket. But Kangris have existed since Mughal times, and used as personal, portable heaters to keep warm in extremely cold conditions. In Kashmir, people sometimes keep these under their long, thick pherans. Consequently, Kangris were made in all different sizes to accommodate the size of the person who would be holding it or wearing it. Besides being functional, Kangris have also become ornamental.
Looking at the fine workmanship and the close association of Kangris with Kashmir, I can imagine why my connoisseur great grandfather had to add it to his collection. The silver Kangri was part of a set, which included a tea service with teapot, a milk jug and sugar pot. Though this particular piece has found its way to me, other pieces from the set have been bequeathed to other members of our family.
The kangri is intricately carved and in excellent condition. Six inches tall in height, it has an exquisite detailing of flora. It is proudly displayed in our living room, having been on a remarkable journey from Kashmir, to Patna, Delhi, and now, to Seattle. I can only hope that my children treasure this as much as I do and that it becomes a part of their journey too.