TEXT BY SAEED IBRAHIM
PHOTOGRAPHS BY NAILA IBRAHIM
Bangalore, Karnataka
The strong gusty winds and gigantic waves rising high above the surface of the sea lash the sides of the ship as it sways relentlessly upwards and comes crashing down again in a mad seesaw. Fear grips my innards as I cling desperately to the nearest firm object I can lay my hands on only to be dragged cruelly away by the sheer force of the wind and the rain. The screams of the terrified women and children rent the air high above the crashing waves. I awake with a shudder, my body drenched in a cold sweat….
In my dream I had been transported back in time and aboard the SS Vaitarna (or "Vijli" as she was popularly known) on that fateful night on 8 November 1888, when caught in a violent cyclonic storm the ship was wrecked off the coast of Gujarat near Mangrol with no survivors. My great grandparents on my father's side who lived at the time in Bhuj, the capital of the then semi-autonomous princely state of Kutcch, perished in this maritime tragedy known as the "Titanic of Gujarat."
They left behind a 16 year old orphan, Aisha, my paternal grandmother or dadi, and a bone china tea service which they had intended as a wedding present for her. Totally devastated by the loss of her parents at such an early age, this special memento of her parents' love brought my grandmother great comfort and solace and at her marriage some years later it occupied pride of place in her wedding trousseau. It has since been passed down through the generations in my family as a remnant from the colonial period in India of the late 19th century.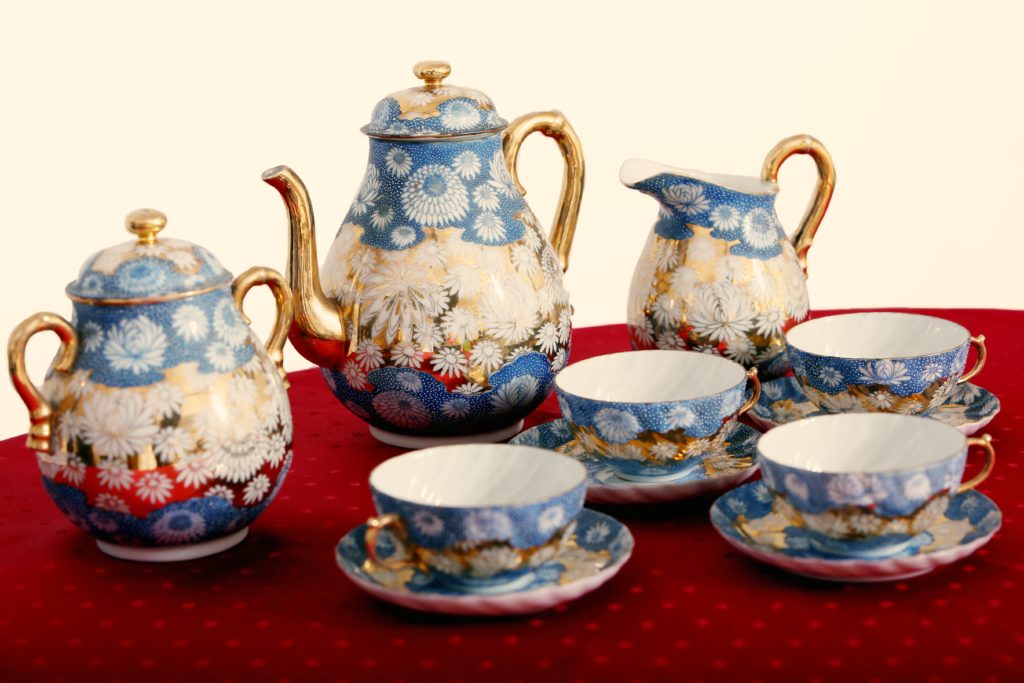 The tea set is a beautiful blue and gold piece of the finest egg shell china, complete with six delicately crafted cups and saucers, a large and elegantly shaped tea pot, milk jug and sugar bowl and half a dozen dessert bowls and an equal number of dessert plates. It was most probably imported from England by my great grandfather from one of the porcelain manufacturers in Staffordshire. Though the set does not bear the manufacturer's name, each piece of the service has my great grandfather's name "Haji Jan Mohammed" inscribed in gold lettering in Urdu script.
At her death, my grandmother in turn passed it on to her daughter-in-law, my mother who carefully preserved it and used the tea set sparingly only for very special family occasions. My family moved to Bangalore from Bombay in 1990, and along with us, so did the tea service. Today it stands prominently in a glass show case in our dining room, undamaged in its pristine beauty.

Caught up in the rough and tumble of a fast paced life style, I sometimes pause and sit contemplating this beautiful piece of crockery. It bears proud testimony to a genteel and slow-paced era, when such dainty and beautiful objects were used not just as show pieces, but formed part of a more relaxed way of life which allowed time for the niceties of life. I am filled with nostalgia and a yearning for a past lifestyle that has somehow eluded us. I turn around and my gaze settles on the  opposite wall  where  hangs  a  second  colonial  heirloom.  This is a framed citation or "Sanad" presented to my great grandfather on my maternal side, who was honoured  with the title of Khan Sahib on 21st May 1898 by  the then Viceroy of India, Lord Elgin for his community service and charitable works in Malegaum (now known as Malegaon) in Maharashtra.



 Like my paternal grandmother, my nani (maternal grandmother), coincidentally also named Aisha, was orphaned at a tender age due to the untimely demise of both parents.  The framed Khan Sahib citation was the one memory of her father that she cherished the most. In later years, it hung prominently on the central wall of her sitting room.  After my grandfather's death, she came to live with us and with her came the framed heirloom and the story of how it had come to be acquired. The Khan Sahib medal has been lost to posterity, but the decoration from the Viceroy of India is up there proudly displayed amongst a host of family photographs in our living room and with it is the legacy of a man devoted to philanthropy and the welfare and the upliftment of his community – a   challenging legacy which the current generation struggles to carry forth.
As children we spent hours listening in rapture to the stories related to us by our two wonderful grandmothers. Despite the apparent affluence of their backgrounds, their lives were not devoid of trials and struggles. Was it more than a mere coincidence that they were both named Aisha? Had they not been separated by a large age gap, they may well have been twins so uncanny were the parallels in their young lives. Tragedy brought them together but they were separated by the force of circumstances and with great courage and forbearance they surmounted their difficulties as they grew from childhood to womanhood, marriage and motherhood.


The author's parents

The author's maternal grandmother, Aisha
To know more about these two remarkable women, how they grappled with their loss, the background and cultural ethos of the times in which they lived, you can buy Saeed's book Twin tales from Kutcch in India and internationally.