TEXT AND PHOTOGRAPHS BY NIHARIKA JOSHI
Ahmedabad, Gujarat & Jodhpur, Rajasthan
One winter afternoon around our shared teatime, Dadi ji opened her late husband's closet, and pointed at the rows of neatly hung kurtas, "Beta, inhe le jao, pehno, kabse yahan rakhe hain, dhool jam rahi hai." It had only been a few weeks since I got married and moved into this century-old house, whose top floor our Dadi ji, Kamla Kabra occupied, with her paintings, delicate frames, and memories of Pandit Brijbhushan Kabra or Dadu (1937-2018).
The kurtas Dadiji was pointing at, I later found out, were each hand-embroidered by her over the last few decades for Panditji to wear for his music performances, important meetings and album recordings! It will be fitting to devote an entirely separate story to Panditji's musical genius, and his personal journeys as a poet, musician, businessman and philanthropist. A pioneer who married the guitar into the Hindustani Classical music tradition, recording several best selling albums and spectacular concerts in the process; the greatness of Pandit Brijbhushan Kabra's life continues to cast a warm glow on all our lives. These words however, are for the clothing of that greatness.
Between 1975 to early 2000's, Dadi hand-patterned and hand-embroidered over 70 kurtas for Dadu, stitched from the softest silk sourced from Ahmedabad, Jodhpur and Calcutta. Dadi ji began with a single kurta in 1975, made for Dadu for a wedding in the family, and went on to steadily build an impressive repertoire, glimpses of which can be seen across intimate family photos and music album covers alike!
Dadi believes that the art of embroidery is a common practice among women of her generation, who were raised in similar situations like hers. The art may be common and ubiquitous, but the sheer volume of her work is staggering. Apart from the three cupboards stacked with hand stitched kurtas at their Ahmedabad residence, she says many more kurtas have been kept away at their Jodhpur house. It's difficult to imagine such nonchalance towards pieces of art one has meticulously created, in an age where every creative output is unfailingly documented and displayed.
The quiet village of Jaswantgarh, Rajasthan where Dadi grew up was faraway from the violence and fervour around Independence, leaving enough time to stitch. Stitch at first; bed covers, tablecloth hems, simple blouses and anything that needed mending, and then embroider."My father didn't know I'd learned to work the sewing machine from my mother, secretly. He wanted us to focus on our education. He made sure all the girls in our village attended primary school first. But somehow I always found time for myself at the sewing machine.After dinner, by lantern-light, my aunt and I would practise our stitches and patterns. The radio would give us background music. Do you know, my aunt was a year younger than me?! That's how things were those days!"
In the aangan of her large Marwari house is where Dadi learned to thread the needle, unhurriedly and with a patience only a life of comfort and certainty can bring. Soon after her marriage at the age of 16, she carried her needles, sewing box and nascent skill to Jodhpur, where they would live briefly, before shifting to Ahmedabad.
While she may have created clothing for an unparalleled master-musician, through her practice, Dadi has created a space of mastery of her own. Panditji was one of the first Hindustani Classical musicians to wear bright, richly embroidered kurtas on stage and during recordings. Before him, most maestros preferred to wear whites or solid colours in public. "He was very handsome, and could carry bold and bright colours with grace. He got so many offers from Mumbai to foray into cinema, but he refused!", says Dadi, with a glint of shyness in her eyes.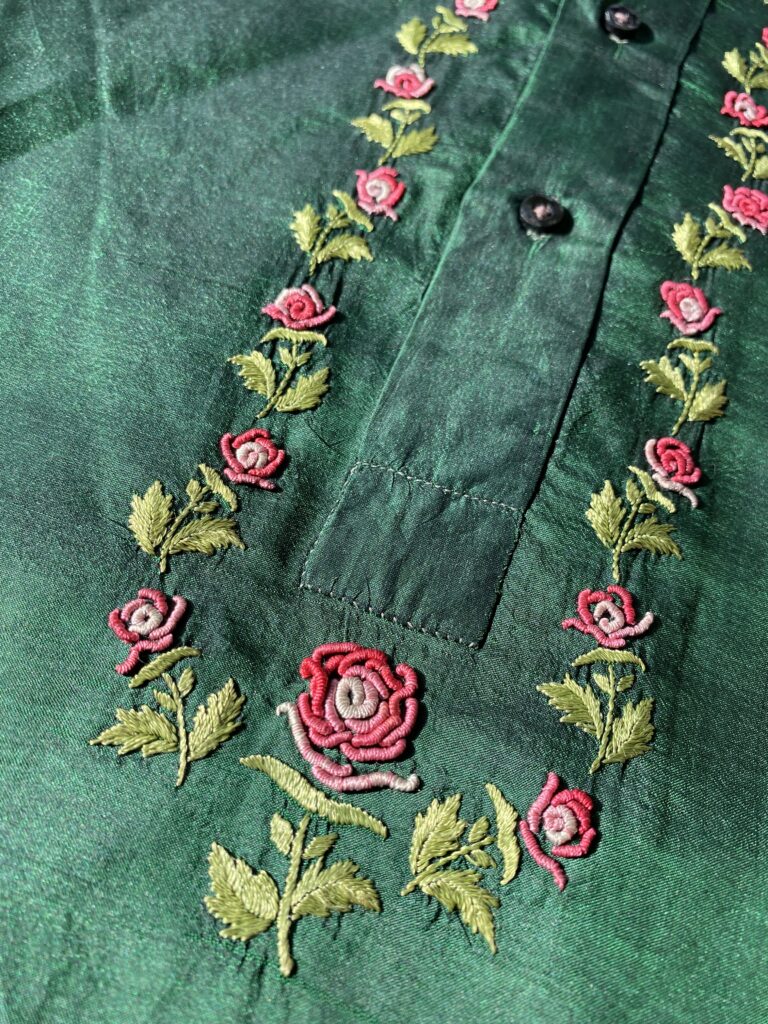 In the empty hours of her todays, Dadi remembers her busy days of embroidering in-between housework and tending to children, and recounts her design process. She would spend borrowed hours drawing a perfectly seamless pattern.Dreaming of leaves, waves, seasons and elements, while Panditji brought them alive through his music.
The process of tracing a pattern from butter-paper onto the fabric was straightforward, but demanded acute precision and attention to detail. As these kurtas were to have embroidery only around the neck and collar, and maybe a small motif on the back, straightness and alignment along the collar buttons was important. Symmetry and mirrored motifs too were suitable to the astute personality of Panditji. Almost intuitively, Dadi decided early on to adorn only the neckline with delicate handwork in silk thread, leaving sleeves, shoulders and sides bare. With this rule, all the kurtas are identical, and a closer look reveals a borrowing of finesse and neatness from each other. A paisley motif is mirrored in one and arrayed in another. A single strand of clover doubles around a different neckline. A cluster of swan-like wings crescendo into bouquets of petals on the same garment's back.
"But never the same patterns twice." cautions Dadi, stacking neatly ironed kurta upon kurta on the bed, as I watched bewildered and slightly aghast at seeing Dadu's clothes at such close range for the first time. I didn't get a chance to meet the man, and from this moment on, I would know him vicariously. "Never the same colour scheme twice too!", Dadi said again, and this immediately jolted me back from my reverie. Here was a collection of unique, custom-made clothes, unlike any other in history, each with a new and different pattern and matched with an un-repeating colour scheme.
Warm ochre with deep green karhai embroidery, a moonlight blue with silver crescents, a pile of off-whites offset by cross-stitched pastel geometries, a summer-garden in kantha blooming on a light pink scape, golden leaves of autumn falling on infinite whiteness. The varieties of expression were endless, and a glimpse at the kurtas stretched into hours of knowing them closely.
Sometimes improvising from craft magazines and pattern-books, Dadi's hands always modified and changed patterns her eyes imbibed. "Kabhi kabhi Hindi filmon me kuch cheezein dikh jaati thi,unhe yaad karke paper par utaar deti thi. Ek baar Sunil Dutt ki picture mein jismein unka naam Gangaram tha,unhone kurta pehna tha, uski pattern bohot acchi lag gayi thi, waisi bana li!." A quick internet search revealed the film to be Milan (1967).
For most stitches used in the making of these patterns, Dadi has a vocabulary in Marwari that keeps changing according to her age and memory! For instance, Sankal – for Chain stitch, a chainlink of thread inching across the landscape of silk. Stem stitch and Herringbone have been called different names over the years, now forgotten by her. The FrenchKnot and ButtonHole stitches, used abundantly in flower petals have retained their English names however!
After hours of looking at these future heirlooms, feeling their soft fabric, studying the almost identical underside of the embroidery; I inadvertently began to look for an archive of these garments, especially in Panditji's album covers and portraits displayed around the house. On the cover of The Master's Touch(1960), Panditji is seen in a mauve flowing kurta, delicate floral lace stitched squarely around the neckline. A portrait of him in the same kurta, gazing another way hangs in his music room. On a duet album with Ustad Zakir Hussain (1978), a young Panditji grins in rich olive-green with bold motifs around the collar. A kurta we haven't found yet.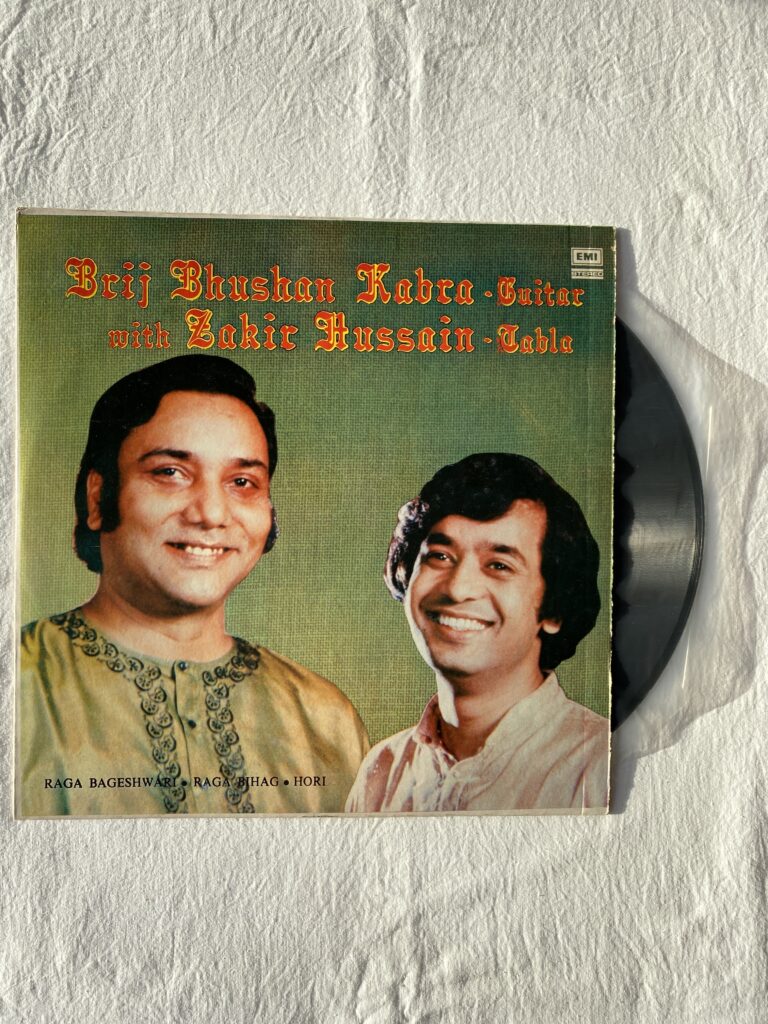 A deep emerald green kurta, garlanded with pink roses around the neck sits in my husband's cupboard now. This is the same kurta Panditji wore on the Lure of the Desert album cover (EMI Records,1985), the kurta a shimmering green against the rolling, yellow desert dunes, presumably of his home-state, Rajasthan. Panditji wore this kurta again, as he walked on stage to receive the prestigious National Sangeet Natak Akademi Award in 2005.
It is the weight of accomplishments and glories that now occupy a hanger in our closet. These clothes were made for a large man, larger than life. The shoulders, arm-holes and chest of the garment are too large for anyone in the family, and the regular tailor who stitched these kurtas has refused to alter, trim and resize them for us. And rightly so! Until we can find a tailor who can happily accept this challenge, these treasures will remain in our closet, wrapped in softest gauze.
Writing this account, stitching these words together was like attempting embroidery for the very first time. Thread slipping, hands shaking and a needle lost in the massive expanse of a soft, but unyielding fabric. Unlike most other precious objects being documented as material memory and familial archives, these kurtas didn't reach our generation as heirlooms. In fact, these set of garments are at the very beginning of their journey of becoming – as with each generation that shall possibly inherit them, shall learn about the value of handmade clothes, each stitch a lesson, and each pattern a repository of past glory. Unrepeated and unmatched!